Auckland ace rider pays price for speed, writes Andy McGechan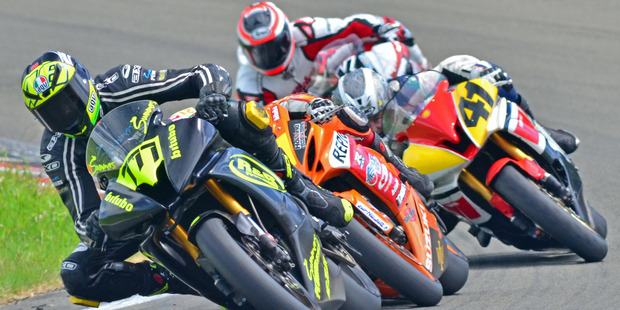 Auckland motorcycle ace Toby Summers has been burning up rubber like never before this season. And that's causing a problem for the 41-year-old Manukau plumber, a privateer bike racer on a limited budget and facing huge tyre bills.
"I suppose that's the price you pay if you want to go fast, go around corners and stay on the track too," says Summers, who has made it a habit to go very fast indeed over the past few years.
Summers raced his way to victory in the pre-Christmas Suzuki International Tri Series, riding his R&R Powersport Yamaha R6 to a convincing win in the Formula Two (600cc) class, finishing the series ahead of Clive's Adam Chambers and fellow Aucklander Daniel Mettam.
Summers could possibly have made it two class wins had he not crashed his Yamaha YZ450F in one of his super moto outings, but now in his second season of racing the 600cc road bike it is the F2 class that consumes most of his passion.
"The Suzuki Series campaign cost me about $3000 in tyres and I spent another $3000 on tyres at the first two rounds of the New Zealand Superbike Championships as well."
The four-round national series is now in recess at the halfway stage. Racing will resume with round three at Taupo on March 23. The fourth and final round is at Manfeild, on the outskirts of Feilding, on March 29 and 30.
Summers' national championship campaign is charging along at breakneck speed too. He is second overall in the 600cc supersport class, 38 points behind defending national champion John Ross, of Christchurch.
But the next big event to occupy the riders' minds will be the big annual Battle of the Streets race meeting on the public roads of Paeroa on Sunday.
Summers will again tackle that event in two separate categories.
"Yes, I'll be racing both the F2 and super moto classes ... I need some prize money to pay for the Metzelers [tyres]. Either that or I get a sponsor and sponsors like winners, so that means just one thing ... I need to win both classes at Paeroa, just like I did last year.
"I've got the lap record for the super moto class at Paeroa but I didn't get the F2 lap record last year and that's something I really want. I think [Australian Yamaha rider] Chris Seaton has the lap record for Paeroa, set in about 2006 or 2007. I'll just have to try a bit harder won't I?
"Of course, getting a lap record doesn't get you prize money. It's just for bragging rights really, but I like the challenge.
"But four wins from four starts [two races in each class] is definitely what I'm after on Sunday."
Summers will again face stiff opposition from riders such as Mettam, Chambers, Katikati's Rhys Holmes (Yamaha) and Wanganui's Ashley Payne (Suzuki).
Meanwhile, we can probably expect to see riders such as Hamilton's Nick Cole (Kawasaki), Wellington's Sloan Frost (Suzuki), Whakatane's Tony Rees (Honda), New Plymouth's Hayden Fitzgerald (Suzuki) and Kaukapakapa's Travis Moan (BMW) among the frontrunners in the Formula One class