The reputation of the Toyota Racing Series is growing, writes Eric Thompson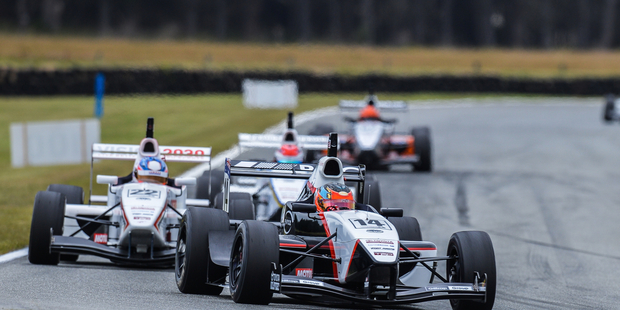 The Brad Jones name is synonymous with V8 Supercars and for many years his team, Brad Jones Racing, has been spotting and developing tin-top racers including most recently Kiwi Fabian Coulthard.
So, for Jones to bring his son, Macauley, over to New Zealand to cut his teeth in single seaters is testament to the growing international reputation of the Toyota Racing Series.
Macauley has been racing in the Formula Ford championship in Australia, and earned the distinction of winning the last ever Australian Formula Ford national championship race.
He was fourth in the championship with six wins, a pole position, 13 podium finishes and four fastest laps. He began racing karts in 2009, stepping up to single seaters in 2012. He was one of four drivers who took part in a post-season TRS rookie test at Hampton Downs in March last year and his dad realised five weeks and 15 races of intense competition could only be good for his development.
"I think it's a fantastic series and that's the reason we brought him out here to race," said Brad. "It's very intense with five weekends of non-stop racing.
"The series is full of really talented international kids and it was sort of a bit of a no-brainer to bring him here."
Macauley is one of the few Australian youngsters to contest the TRS championship and it is curious why more don't make the jump across the Ditch to gauge their single-seater skills against the best from Europe, the Americas and New Zealand.
"The majority of young drivers who get out of Formula Ford and want to establish a career in motor racing only really have one avenue open for them and that's to become a touring car driver," said Brad.
"A few go to Europe to have a look around but for me and with the age Macauley is [19] this series at a first look might have been too big a step, but he's done okay.
"Towards the end of the series he's now staying out of trouble and is proving to be quite fast.
"I can't tell you why nobody else is here [from Australia] but for me it's a very good series and a great summer sport for him to involved in."
Macauley has not lacked speed so his time in the TRS championship has been more about developing race craft and going hard out with some of the most competitive young drivers around.
"The first time he jumped in the car for qualifying he put it into the sandpit and the next time he was fourth and fifth," said Brad. "He's had good car speed but it's all been about tempering that a little bit and being consistent.
"In the last part of the series he's begun to get used to the car and not to tear the front wing off. You've got to remember he came out of Formula Ford, which has a narrow front and no great big wing hanging out the front.
"For me the turning point was Hampton Downs where he raced well and it's a bit of a pity this is the last weekend because he's now making great progress."
Racing open wheelers is a bit different to racing touring cars where you can lean on someone and not worry too much. The skill sets are pretty much the same. Just as in saloon-car racing the battles all through the field are hard and fast so the skills developed by all the drivers over the five weeks are easily transferable.
"There is a little bit of wheel rubbing in this class and it doesn't do anyone any harm to get a little bit of experience being roughed up on the track," sEaid Brad.
"It's all about race craft and anyone can bang doors in a saloon car, but here in an open wheeler it's a little more tricky."
The series ended at Manfeild for the New Zealand Grand Prix with Nick Cassidy winning his third straight NZGP title and Singaporean Andrew Tang winning the overall title.