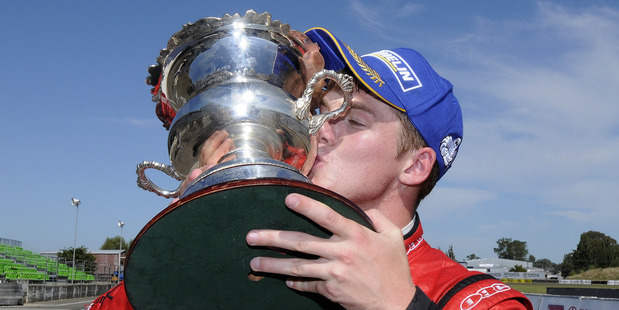 The New Zealand Grand Prix is the first race on the FIA's international motorsport calendar and Kiwi Nick Cassidy held off 19 international drivers to see his name etched on the illustrious trophy for a third straight time.
He took the win in the 35-lap feature race, holding off challenges from Andrew Tang and Jann Mardenborough.
The Aucklander becomes only the second driver in the NZGP's 59-year history to complete the treble, following in the footsteps of Craig Baird who managed the feat in 1991, 1992 and 1993.
Cassidy was a late addition to the Toyota Racing Series and was only contesting the last round of the championship at Manfeild over the weekend with one goal in mind - to win the NZGP title again.
It would be unfair and churlish on the other 22 drivers in the field to say Cassidy won with consummate ease.
He never looked troubled, despite the numerous restarts and yellow flags.
"It's pretty unreal and I don't really know what to say," said an elated Cassidy. "The target for the race was to get out front and control the race. I didn't need to set the fastest lap all the time because there were always gong to be safety cars.
"All I needed to do was hold everyone at bay and I've had enough experience with this race to know you're not gong to win it by racing away.
"After every restart I put in a fast lap and then controlled the race pace.
"There was a little left at the end that was there if I needed to hold off the others."
Winning the internationally recognised NZGP sets a solid platform for Cassidy at the beginning of 2014 and sends out a good message for anyone domestically and internationally looking for a driver who can jump into a car and go fast straight away.
Cassidy raced under the banner of newcomers to the TRS championship, Neale Motorsport, who had another reason to celebrate the weekend. Team principal and owner Andrew Neale has a rich history in motorsport but never dreamed he'd be winning the NZGP, and his young charge Andrew Tang would clinch the overall championship in the last race of the series by finishing third.
The Singaporean driver has been Mr Consistency over the past nine races, never finishing off the podium and came to understand that points mean prizes.
"It's like a dream come true and I can't even put it into words," said Tang. "The race was a bit tricky but third was good enough to win the championship.
"After the first round in Invercargill it was like someone flicked a switch. The car has been awesome and I can't thank Andrew enough and also my mum and dad who have been so supportive of me going racing."