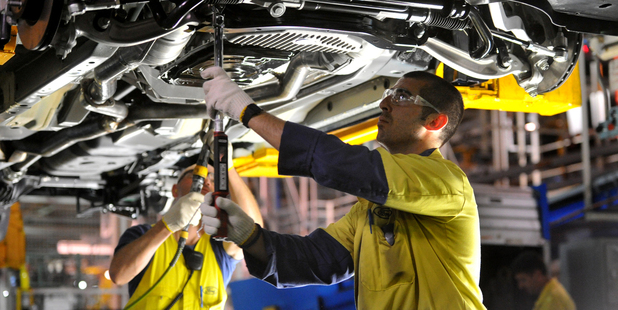 Three hundred Ford workers will lose their jobs in June as the car company reduces production at its Victorian manufacturing plants as it prepares to cease manufacturing.
Ford Australia director of communications Wes Sherwood said the company briefed union representatives and its manufacturing team today.
"We are continuing to match production with demand and that will mean we are reducing production by about a third in June with related job losses," Mr Sherwood told AAP.
He said the number of job losses would be in line with the level of production, meaning about 300 positions.
"We'll continue to work with the teams to get into the exact details but it will be about 300," he said.
Workers at the manufacturing plants in Geelong and Broadmeadows, in Melbourne's north, will be affected.
Mr Sherwood said the exact numbers at each site were still being worked out.
Ford announced last May that it would cease local manufacturing in October 2016, resulting in the loss of 650 jobs at its Broadmeadows plant and 510 at the Geelong plant.
At the time Ford Australia president and CEO Bob Graziano said the cost of manufacturing cars in Australia is uncompetitive.
Mr Sherwood said Ford currently has about 1500 salaried employees including 1000 engineers, in addition to the 1000 current manufacturing positions.
He said even with it ceasing local manufacturing in 2016, the company would be Australia's biggest automotive employer given moves by other carmakers.
"We expect by the end of the decade to be the largest automotive employer in the country."
Ford will manufacture its Falcon and Territory models in Victoria until 2016.
Mr Sherwood said the carmaker was committed to its plan to transform its Australian business, which included refocusing and expanding its entire line-up for customers by 2017.
"We are on track for the launch of our new Falcon and Territory later this year," he said.
Mr Sherwood said the market is shifting towards smaller vehicles, with demand for larger cars in decline.
"We're just going to have to match production with demand.
"Obviously there's been some cases where others have taken some pretty aggressive action in the marketplace, really discounting their vehicles to levels that are unprecedented."
Victorian Attorney-General Robert Clark said he was yet to receive details on the Ford announcement.
"I don't have full details, but the government remains committed to support Ford workers going forward as we have to date, as indeed to support all the workers in the car industry," Mr Clark told reporters.
Australian Manufacturing Workers Union vehicles division national secretary Dave Smith said there will initially be a number of down days before the redundancies in June.
He said a recent union survey of Ford members showed 96 per cent wanted to stay to the end.
"Therefore this announcement creates tremendous uncertainty for all the company's workers," he said.
"This reaffirms the ridiculous damaging actions of the government, in not supporting auto-workers in a softening economy."
Victorian Manufacturing Minister David Hodgett said he had been briefed by Ford that sales have significantly declined across the range of vehicles they produce.
"They are significantly down on last year."
Mr Hodgett said there would be 13 additional down days at Ford between now and June this year.
"They will wind back their production line, realign and adjust their production line by a third from June.
"What that will result in is redundancies of some 300 jobs."
He said Ford's plans to roll out the new Falcon and Territory later this year had not changed.
"This has always been a concern of ours when Ford announced they would cease production here in Victoria and in Australia in 2016 that sales might decline.
"Ford want to continue and are committed to continuing production right up until 2016, but that is of course contingent on their sales figures being able to continue to manufacture those vehicles."
Opposition Leader Daniel Andrews said it was devastating news for workers and said Premier Denis Napthine did nothing to save the jobs.
- AAP