Former junior motocross champ ready for the big league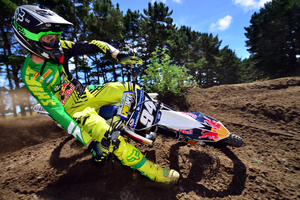 Watch out New Zealand, here comes a revitalised Kayne Lamont.
The 20-year-old multi-time former national junior motocross champion from Mangakino has had his career reinvigorated as he steps aboard the new Husqvarna TC250 two-stroke machine for the senior New Zealand Motocross Championships, which kick off near Timaru this weekend.
He had his first official outing on the new bike at the New Zealand Motocross Grand Prix at Woodville just over a week ago, where he sensationally won the MX2 (250cc) class, beating off such talented individuals as Rotorua's John Phillips (Honda), Dargaville's Hamish Dobbyn, Mt Maunganui's national MX2 No 3 Rhys Carter (Suzuki) and national MX2 champion Scott Columb (Yamaha), of Queenstown.
Lamont managed to win the stand-alone Roddy Shirriffs Memorial Race trophy (for riders under 22 years old).
And that was just the start to his build-up for the four-round New Zealand Motocross Championships.
These results were remarkable, especially considering that his build-up for the season has been handicapped, sidelined as he was until recently while he underwent surgery to repair an old collarbone injury.
So, although, Lamont's preparations began a little later than he would have liked, it's fair to say the signs are looking good that this BikesportNZ.com-supported rider will be a potent force to be reckoned with this season.
Lamont had been racing for KTM in Australia, winning the Under-19 Motocross Development class title in 2012, but, as his father, Stu, explained, "The unfortunate shutting down of the Choice Motorsport KTM Team in Australia meant it was time for a change for us."
The Lamonts had discussions with Patrick Stafford of KTM New Zealand, after their restructuring of the KTM race squad for 2014 and the company's acquisition of the Husqvarna brand, and it was decided that Kayne Lamont would be the ideal rider to spearhead the new Husqvarna Red Bull New Zealand Racing Team.
"The Husqvarna TC250 is very similar anyway to the KTM bike that Kayne had been riding," Stu Lamont explained.
The Husqvarna Red Bull New Zealand Racing Team will comprise Kayne Lamont, British visitor Rob Holyoake, with Australian former KTM ace Brock Winston also riding for Husqvarna in New Zealand this season.
Lamont also intends to race for Husqvarna in Australia later this season.
The sport of motocross already enjoys extensive support from Red Bull in New Zealand - sponsoring the high-profile CMR Red Bull KTM Team - and Red Bull sports marketing manager Brendan Thomas says he is very excited about this latest development with Lamont and Husqvarna.
"Kayne has proven himself in both New Zealand and Australia as a consistent rider. Coming back from recent injuries and hopping on a new bike, we are excited to see him overcome the challenges and get at that championship once again.
"We have always had Kayne on the radar, ever since his time began in the [New Zealand-based] CMR KTM Red Bull team.
"He is a motivated young talent who shows some great potential, so we look forward to supporting Kayne on his New Zealand comeback trail."
The New Zealand Motocross Championships kick off at Pleasant Pt, near Timaru, on Saturday, February 8, with rounds to follow in Tokoroa (February 23), Pukekohe (March 9) and, finally, Taupo on March 22.