Jacqui Madelin checks out a classic Holden that's now used for fundraising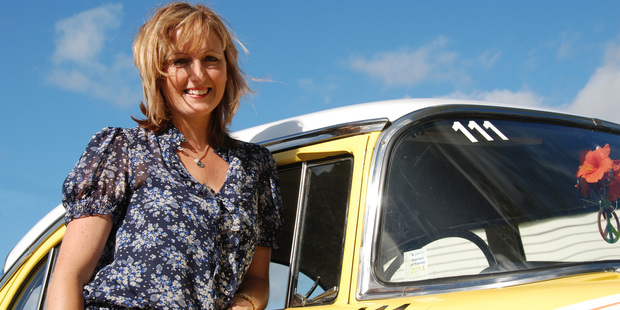 Dana Coote has owned her 1961 EK Special for seven years. The model was a minor facelift of the FB with revised trim, electric wipers and the first auto transmission for Holden, the Hydramatic, fitted only to the Specials. The EK sold for a year and was replaced by the EJ in 1962.
Still decked in its original yellow with teal-green vinyl seats, this EK now features a "Tiki Girls" wrap across its flanks and Variety Bash logos, since Dana uses the car to fundraise for the children's charity Variety.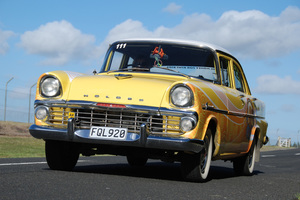 "I bought it to do the Variety Bash, the charity's classic-car road rally. My brother has Williams syndrome. He's 33 now but needs a fulltime caregiver." Dana knew what Variety was all about, and wanted a vehicle that evoked happiness and classic Kiwiana.
She saw the car advertised on Trade Me from Invercargill and bought it sight unseen.
"I booked a transporter and was a bit nervous until it turned up."
Fortunately the EK was in good running order, the 56kW six-cylinder 138ci (2.3-litre) and three-speed column change auto still emitting that evocative deep comfortable burble.
"People keep telling me to get a more powerful engine but I want to keep it original, it's more interesting that way. The only adaptation I did was with all the long drives, the car was overheating and the radiator was overflowing, so we put an empty oil container in, and a hose from the radiator, and it overflows into that, then goes back in."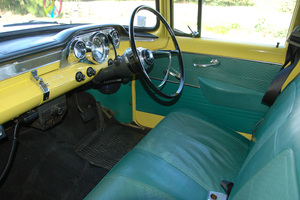 Dana also had the chrome redone, but apart from that, a touch- up and the whitewalls, it's standard. "I changed the horn, the original one wasn't loud enough so there's now an Ooogle one in there."
The other embellishments, including the Manu dolls and flower garlands, are part of the Kiwiana theme, along with the Tiki Girls logo. Dana's friend, Ange Carter, is usually aboard for the ride. "We remember the Manu dolls from playschool and that's where we got the scheme."
The pair fundraise for Variety. "We sell fireworks, hold Blue Hawaii nights with an Elvis, running raffles, all sorts, though we can't make every Bash as we don't have sponsorship." This does give the girls more freedom to pick a theme.
This year they will dress up as Hogwarts schoolgirls; a trunk, an owl cage and broomsticks will replace the usual surfboard on the roof.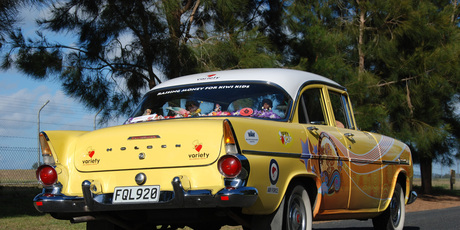 The "Bash" rally means Dana has driven her Holden far further afield than most classic car owners. "From Christchurch to Auckland, to the Coromandel, Tauranga, Tongariro and Taranaki. We've taken it up north, and driven it along Ninety Mile Beach, been to Farewell Spit in it and through the Forgotten Highway. It will sit happily at 80km/h but with this original suspension, it really rolls.
"When you join a Bash rally, you've got plenty of mechanical support, so you can go further afield. There's no power steering, so you really are driving, it's not like a modern car; you certainly know when you've been driving it for four hours."
She's had a pretty trouble-free run. "We did have a fuel leak in Taupo on our first Bash. We were heading south via the back roads and the smell of petrol got really bad. The gasket had eroded and our luggage was soaked with petrol. Someone suggested we pop up the hill to the local upholsterer. He cut a new gasket from cork he had on hand, cut me a brand new boot lining and didn't want to charge me. Otherwise we've had no trouble."
Dana's uncle has been teaching her to work on the car. "I relined the fuel tank myself. It took all weekend as you've got all these stages and it has to dry in between, so in true Westie style I had my hairdryer out. He was laughing. It's a monumental job. I'm not a natural mechanic but it's nice to learn."
She loves her EK now. It's become her everyday classic. "On a nice sunny day I just take it for a drive. People often stop and offer to buy it, but it's not for sale. How could I sell it?"