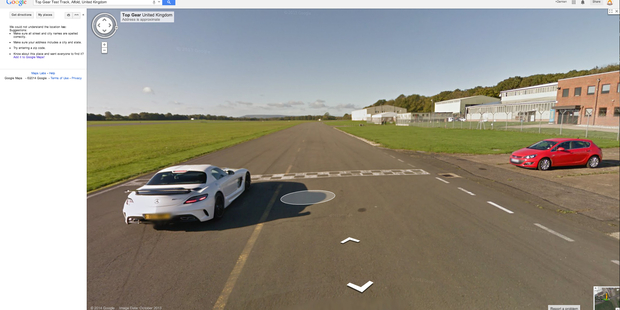 In its push to map the entire world, whether people actually want that or not, Google popped into the Top Gear test track with its Street View camera car to record the place where the Stig does his best work.
Except being Top Gear, there had to be a twist - the Stig accompanied the Google camera car around the track in a Mercedes-Benz SLS AMG Black.
Although, when we say "accompanied", we actually mean "buggered off in the insanely powerful supercar and did skids".
Still, the result is far more interesting than the usual Street View.
Lotus F1 plan sports car
Formula One team Lotus is said to be using its F1 experience to create a new road-going sports car.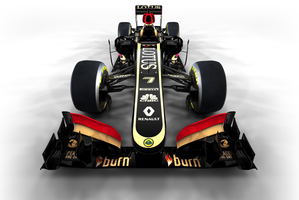 But wait, don't Lotus already make road-going sports cars? A few different ones, in fact?
Well, yes, but that is a different company altogether. You see, the current Lotus F1 Team (originally known as Toleman, then Benneton and then later Renault) only has a naming-
rights sponsorship deal with Group Lotus, the company that owns the carmaker.
Otherwise they are unrelated.
The Lotus F1 Team is owned by Genii Capital, whose chairman Gerald Lopez recently confirmed a rumour the company was working on a sports car.
Lopez is quoted by German magazine Auto Motor and Sport as saying: ''We are going to develop a carbon chassis for a sports car that can be built in large quantities ... But this has nothing to do with Formula 1.''
Genii was linked to a deal with sometime carmaker De Tomaso a while back, that has since been denied by both parties.
So if Lotus F1 Team does spin a road car out of its F1 operations (no doubt in an effort by Genii to get something out of the US$130 million ($157 million) it has sunk into the team) we know it won't be called a De Tomaso and it also won't be called a Lotus.

Making trax in the snow
Ken Block may not be so good at actually racing a car, but his taste in modifying them so that they are utterly over-the-top is pretty spot-on.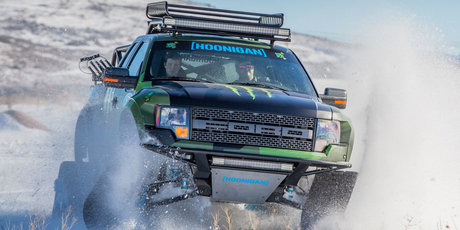 Take, for example, his latest toy _ the absolutely insane Ford F-150 RaptorTRAX. The recipe is actually quite simple; take one Ford F-150 SVT Raptor, throw a set of Mattracks where there were once wheels, add a roll cage, Recaro seats (including two rear-facing
ones in the tray), custom snowboard racks, a rear-mounted winch, an exterior audio system and slap a Whipple supercharger on the 6.2-litre V8 and you are away.
The standard Raptor is built by Ford Racing and the RaptorTRAX was modified by Special Vehicle Concepts, a Ford tuner based in California.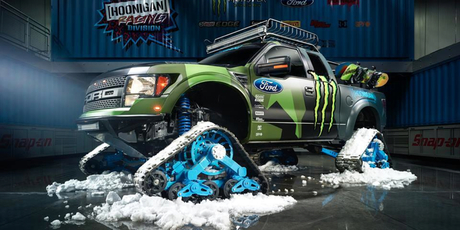 While Block intends to use the vehicle for ''back country snowboarding expeditions'', it was on display at the Winter X Games in Colorado this week. He also intends to make a suitable video with the beast later in the year.
Bentley sideline shiny and oh, so tasteful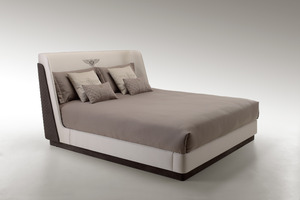 Not enough Bentley logos in your Mulsanne? Disturbed that you can't sleep in your Continental GT? Would you really like it if there was more shiny wood in your life?
Well, relax, because now you can have all of that and more thanks to the new range of
furniture that is part of the new Bentley Home Collection that was designed with Luxury Living Group, one of Europe's leading furniture makers.
While the distinct lack of quilted leather and anything with knurling is disappointing, the Richmond Bed more than makes up for this with its ''roomy design'', in which the
masterfully crafted materials play a prime role, and the ''unique and elegant double shell'', covered in quilted leather or precious briar root, ''which encompasses the headboard
lined with iridescent sand-coloured satin wool.'' This should make it special enough, but the finishing touch is the embroidery tastefully adorning the headboard. Sorry, did we say tasteful?
Bed aside, the rest of the range is more restrained when it comes to logos, although it does seem to favour style over comfort or usability, particularly the Ambassador sideboard that appears to be a particularly large piece of shiny wood with bits of metal. It is very nice shiny wood though ...
If in doubt, add chrome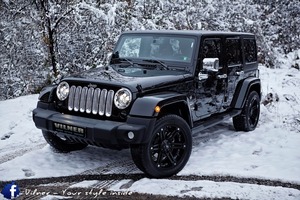 Proving that its staggeringly bad taste modifications are not the sole domain of European cars, Bulgarian tuning outfit Vilner has unleashed its vileness all over a Jeep Wrangler
Unlimited.
In keeping with American tastes, the Vilner-abused Wrangler gets a high-gloss black paint job accented with LOTS OF CHROME. Which, funnily enough, is the visual equivalent of writing all in caps.
The headlights, fog lights and tail lights are all chrome-festooned LEDs, while the grille, mirrors, door handles and petrol cap all get the chrome treatment as well. Twenty-
inch black alloy wheels cap off the external horror, while the interior adds an extra layer of visual torment with cross-stitched crimson leather and Alcantara everywhere.
Metal interior surfaces are the same gloss black as the exterior, detailed with _ you guessed it _ more chrome.
In keeping with the classy visual modifications, the engine gets an upgrade as well _ the diesel engine, that is _ going from 147kW of power and 460Nm of torque to 192kW and
559Nm so that you can rattle along a wee bit quicker in your shiny, shiny monstrosity.
We are the world
*It's been a bit cold in 'Murica, so it is important that essential supplies get through. That is probably why a motorist in Texas captured a video of a Shipley Do-Nuts truck getting a police escort on an icy highway. After all, nothing is more vital to an American cop than a doughnut ...
*US magazine Road & Track has had to run an apology regarding an article on a Formula BMW driver. The apology went as follows: ''In our August issue, a reporting error led to
a mistake regarding the gender of Formula BMW driver Gabby Chaves.
The 16-year-old race driver, contrary to our report, is male, and a talented one at that.'' Oh dear ...
*For reasons lost to time and vague short-term memories, the number 420 has long been associated with cannabis use in the US. This has proven to be too much for the state of
Colorado, where the 420-mile marker on the I-70 highway keeps getting stolen. The solution: the ''420'' marker has been replaced with one that reads ''419.99''.

Number Crunching
0 WINS The number of times Ken Block has won the Rally America series in eight years of competing.
18 POINTS The number Ken Block has totalled in the WRC in six years of competition.
15 RALLIES The number of rallies Ken Block has won in his entire professional driving career - all in the US.
200 MILLION The (very conservative) estimated number of views Ken Block's Gymkhana videos have totalled so far on YouTube, so who cares about rallies?