David Banks reckons buying a racing car is the 'best decision he ever made'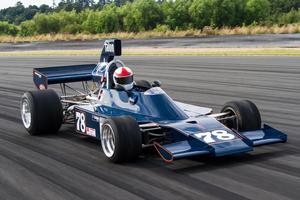 It's been a case of "better-late-than-never" for David Banks, the 50-year-old Auckland businessman who joined New Zealand's internationally recognised MSC F5000 Tasman Cup Revival Series three years ago in the ex-Jon Woodner Talon MR1.
Last season, Banks finished a career-best third in the MSC series points standings and though business (he owns automotive parts supplier SAS) and family remain his main priorities, he says that buying a car and participating in the series is definitely one of the best things he has ever done.
"What do I like about it? Everything," he says. "I love hanging on and focusing on what I am doing when I'm driving the car and I love the camaraderie with the other drivers.
"I also get a lot of pleasure from working on the car. I've got a great young guy, Steve Webster, who helps me, and between him and me we do pretty much all the preparation and maintenance work on the car ourselves."
Banks says he has always enjoyed cars, and has owned any number of performance road models, but despite a life-long interest in motorsport, the Talon is the first dedicated racing car he has ever owned and driven. And he credits good friend, and now fellow MSC series competitor Peter Burson, for the decision to take the plunge.
"I remember the Formula 5000s from the first time around, though not even in my wildest dreams did I ever think I'd own, let alone drive, one. But Peter and I have been mates for many, many years and he kept telling me that one day he'd give me a drive in one of his cars.
"I was always saying yeah, yeah, yeah ... come on, come on, then one day he did and if you ask my wife Brenda she'll tell you that the smile didn't leave my face for a week."
The car that Burson drove was the Talon MR1A originally imported by local class and historic racing identity Tony Roberts and subsequently bought by the Burson family for son Aaron to race.
It obviously made quite an impression on Banks because that was what he went looking for when he decided to buy a car of his own and that's what he found - thanks again to Peter Burson - for sale in the United States.
"Peter turned up one night and said, 'you're not going to believe this but I've just found the only other Talon which is running in the world'," says Banks.
There's a strong Kiwi connection to the American Talon marque. The MR1 and MR1A are effectively production versions of Kiwi Graham McRae's GM2.
The legendary Wellington-born driver/constructor licensed the rights to the design to American Jack McCormack in 1973.
According to Banks, five Talons were built, three MR1s and two MR1As. The car Banks bought is the original, chassis 74-07-1 and is now the only MR1 in existence.
"They changed the configuration slightly when they were building the MR1As and converted two of the three MR1s to the new specification at the same time," says Banks.
He thinks they didn't convert the original one because that car was Downunder being used by Kiwi F1 great Chris Amon in the 1975 Tasman Series.
"There are no guarantees [as to authenticity] but ours was never converted and the only thing we can pin it down to is that it wasn't around when they were building the MR1As because it was down here doing the Tasman Series," says Banks.