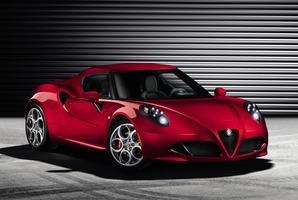 The Alfa Romeo 4C has been voted 'the most beautiful car of 2013' by the International Automobile Festival of Chamonix.
The Italian sports car scored 41 per cent of the votes over the other three finalists
which included the BMW 4-Series (25 per cent), Mercedes CLA (22 per cent) and the Mazda 3 (12 per cent).
The votes were the result of a world wide online survey, which saw the 4C emerge the winner. The awards were staged yesterday at the Htel National des Invalides with the award presented to Louis Carl Vignon, head of Alfa Romeo for the EMEA (Europe, Middle East, Africa) region.
Created in 1986 in Chamonix and presided by Remi Depoix, the International Automobile Festival has become a key event on the world automotive calendar and has been awarding the most beautiful car of the year award since 1988, which was won by the Alfa Romeo 146.
The Italian firm also won again in 2005 and 2008 with the Brera Coupe and Mito hatchback.