Fireworks are on the way for the cross-country nationals, writes Andy McGechan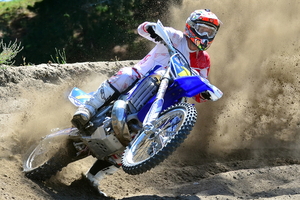 Early indications are that the New Zealand Cross-country Championships will again be an explosive affair. The four-round series starts in Taranaki on February 16, and last year's two top riders have already lit the fuse on what many expect will be another season of motorcycling fireworks.
Mokau's national No1, Adrian Smith, is among the favoured few to win the nationals again this year, having made it two wins from two starts in his title defence of the parallel Bel Ray Cross-country Championships series. Raglan's national No2, Jason Dickey, has also impressed in pre-nationals competition, having won the stand-alone Raglan Rocx cross-country race just over a week ago.
The 27-year-old Smith won the Bel Ray series last season, making him an obvious favourite and, after two of four rounds thus far this season, it seems a safe bet that he will hold on to the No1 number plate in that competition.
Smith took his Blackwood BikesportNZ.com Yamaha YZ250 to win the dusty Bel Ray series opener near Huntly in December, leading home arch rival Dickey, and it was a virtual carbon copy of that with his win at round two at Waikaretu, near Huntly, earlier this month.
Points are counted from only three of the four rounds and that means the three-time former and current national champion - whose week-time job is as a sheep and beef farmer in the Awakino Gorge - is possibly just one race away from wrapping it up for 2014.
Smith finished the six-lap, two-hour marathon at Waikaretu nearly two minutes ahead of Dickey (Kawasaki KX250F), with Hamilton's Andrew Charleston (Honda CRF250), Rotorua's Scott Birch (Honda CRF250), Pukekawa's Craig Brown (Kawasaki KX450F) and Te Awamutu's Mark Penny (Suzuki RM-Z250) rounding out the top six.
"Jason had a crash while chasing me and that caused him to drop back a bit, but, when I came in to the pits to refuel he swept past me. I caught him again about half a lap later and managed to retake the lead."
Charleston put in a late charge, passing Penny, Brown and Birch on the last lap to secure the final podium position.
Round three of the Bel Ray series is in Cambridge on February 9.
The Bel Ray series is a stand-alone competition, but also an ideal warm-up for the nationals which begin next month. It has been a seesaw battle between Smith and Dickey through this early part of the season. Dickey had his revenge over Smith at the Raglan Rocx race. Dickey, 19, roared to a convincing eight-minute win over Smith at Raglan Rocx. Third overall was the two-man Honda team of Birch and Charleston, while another two-man combination, Tuakau pair Boyd Carlson and Michael Williamson, brought their Kawasaki KX450F home in fourth position.
"It took me two kicks to get the bike started and that cost me a bit. I was down in about 20th place at the start," Dickey said. "I slowly picked off rider after rider and, by about 7km into the opening lap I was up on Adrian. Then I passed him and started to open out a bit of a gap.
"The win has me feeling confident with the next round of the Bel Ray Cross-country series coming up in a week or so and then the start of the nationals."
The four-round New Zealand Cross-country Championships start in the Taranaki region on February 16, with rounds to follow in Huntly, Westland and Marlborough.
It is going to be a blistering season.
Stand well clear; the fuse has already been lit.