Jacqui Madelin weaves through urban gridlock to magically deliver her freshly-baked cake in one piece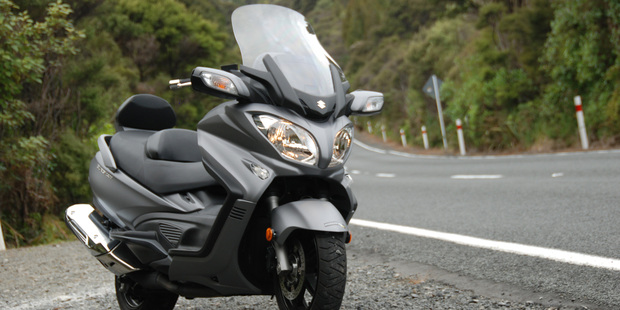 Forget the idea of scooters as compact commuters; big muthas like the Suzuki AN650 Burgman turn that format on its head.
You'll not be re-enacting Audrey Hepburn's carefree Roman Holiday, zipping lightly through stylish Italian streets. Instead imagine you're using a sensible family hatch that's been sliced in half, front-to-rear, to fit through urban gridlock while making as small a compromise on luggage and power as possible.
AN650? Yes, there's a 638cc liquid-cooled parallel-twin engine tucked underneath the capacious bodywork. A relatively modest 40kW delivers a power-to-weight figure sufficiently constrained to ensure the Burgman is rated as a learner machine, though fortunately torque is relatively generous at 62Nm.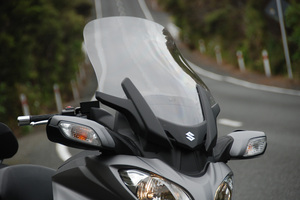 That engine is fed by a 15-litre fuel tank which should deliver a good cruising range - assisted by a green eco light I largely ignored in favour of brisk progress, assisted where necessary by the manual-auto CVT gearbox.
Press a handlebar-mounted button to select manual, then press the handlebar-mounted "up" and "down" buttons to travel through the five gears. You can simply hit "power" for a boost when overtaking, but the manual option was great to access engine braking on steep downhills, the only time you're likely to reject the otherwise efficient auto.
Unfortunately, manual provision only goes so far, and there's no reverse gear. Don't laugh: Honda's Goldwing has one, and it wouldn't go amiss here, for manoeuvring this 275kg machine requires a bit of muscle, and you don't want to have to haul it backwards up a slope.
As for pointing it downhill, I found myself glad of the park brake - just one of a number of car-like party tricks this Burgman boasts.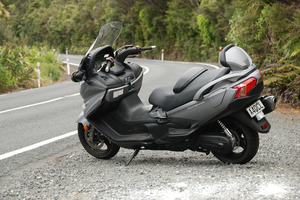 Like the charging point for your cellphone or iPod. The electric folding mirrors for those tight parking spaces.
And even a boot light for the 50-litre underseat space that will swallow a modest supermarket shop for one, before burping and asking for more. Not enough? Two small fairing-mounted gloveboxes swallow cellphone, wallet and snacks or spare gloves, while another full-width lockable one beneath them takes even more; I've driven cars less well supplied with cubbies.
The Burgman even features a backrest for your intrepid rear passenger, who'll settle comfortably on a seat as broad and well padded as a hippo's rear while you play with the electrically operated screen, which I'd lower for better visibility round town then lift it to efficiently cut wind buffet - although a rider taller than my 1.66m might wish it went a whisker higher.
It all sounds a tad OTT, especially to a motorcyclist used to simpler pleasures, until you get used to it. Sure, the rubber-mounted engine is too quiet and smooth to impart much character, and the ride was a touch firm for my liking, although a heavier rider might disagree.
But the Burgman handled surprisingly well for such a behemoth, in part because of those bigger-than-the-normal scooter 15- and 14-inch wheels. While hardly svelte, it handled gridlock traffic with the aplomb of any two-wheeler. It was very comfortable, and far more practical than anything on two wheels has a right to be - I even carried a freshly-baked cake to a barbecue, causing a sensation when I whisked it undamaged from beneath the Burgman's lifted seat.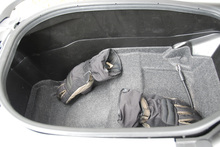 The only sticking point is that eyewatering $17,295 price. For just $194 extra you could buy a Suzuki AN125 scooter for the gridlocked commute, and a 1-litre Alto car for when it rains or you've more than one passenger to carry. Or a three-year-old Suzuki Swift, two AN125s and change. Or ... well, you get the picture.
Practical, comfortable and eyecatching the Burgman may be, a scooter capable of taking you from Auckland to Wellington without breaking a sweat. But an affordable commuter scoot it ain't.