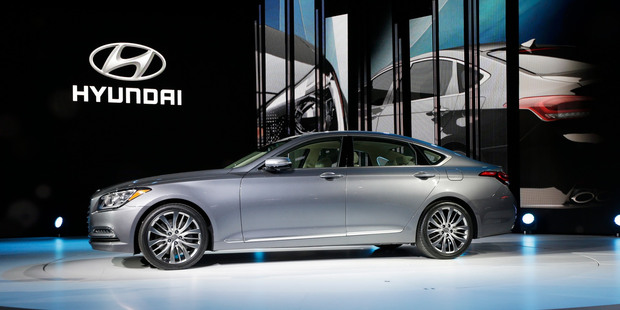 It's just made its debut at the Detroit show but it won't be too long before Kiwis get a look at Hyundai's luxury Genesis sedan.
The Genesis gets an all-wheel drive option and for the first time comes as a right-hand drive.
Incorporating Hyundai's Fluidic Sculpture 2.0 design, the Genesis sedan incorporates large trapezoid-shaped front grille with horizontal bars, an aggressive looking hood and front lights, with a centre-hood bump set off by creases. Its gracefully sloped back end tapers to LED tail lamps.
The all-new Genesis will be powered by the 3.8-litre Lambda V6 engine - 231kW/397Nm - and the top of the range 5-litre Tau V8, 313kW/519Nm, the most powerful in the Hyundai line-up.
Technology includes new-generation Smart Cruise Control (SCC), Blind Spot Detection with Head-Up Display, Lane-Keeping Assist, Lane Departure Warning and more.
In addition to this, the Genesis features an Emergency Steering Support Mode which automatically changes the setting of suspension and electronic stability control (ESC) in the direction suitable for emergency steering, to help avoid frontal impact situations.
New Zealand pricing will be announced closer to the car's local launch but it will mean another big year for the locally-owned company.
Hyundai New Zealand finished last year third in new car sales, ahead of big hitter Ford, with 7179 of the Korean vehicles registered.
It also had the top selling diesel vehicle in New Zealand, the Hyundai Santa Fe SUV, which was pretty impressive considering the company struggled with supply from Korea for the top end Limited model.