Tunland buyers will enjoy new-car perks at second-hand price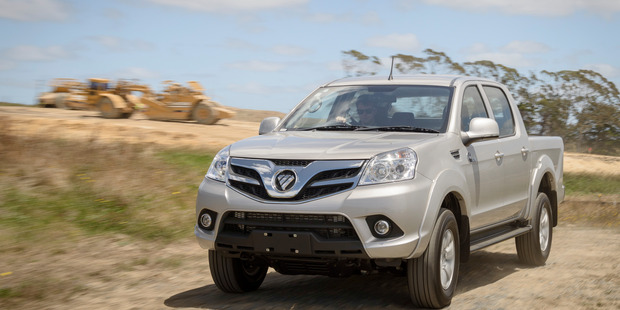 Parked in front of a construction site just out of Auckland for a photo shoot, a tradie approached me during his lunch break and asked me, "what kind of ute is that?"
When I said Foton Tunland, he replied: "Never heard of that, but it looks cool."
The Tunland is the latest import from China to go on the attack in a very competitive segment that is dominated by two huge players - Toyota's Hilux and the Ford Ranger.
Despite a name resembling a strike weapon from Star Trek, Foton is actually one of the biggest names of Beijing Automotive.
This company has a well respected background in the production of commercial vehicles such as trucks and buses, with 125 countries putting Foton on the shopping list.
Now, Foton's first venture into a mainstream automotive segment, the Tunland Dual Cab Ute, is being sold in New Zealand.
Foton New Zealand general manager Scott Billman sees the Tunland as a good step into this competitive market.
"The strength of any brand is the product and its people. We have already appointed many dealers and are in talks with many others, so we feel we are heading in the right direction," he says.
The Tunland is available only as a dual cab, with two and four-wheel drive versions. In terms of price, expect to pay $30,990 for the two-wheel drive base model and top out at $37,990 for "luxury" variants.
With this kind of price, the Tunland is aimed at buyers who are looking at a second-hand Hilux but would appreciate the three year/100,000km warranty.
But on the downside, the Tunland only has a three-star Ancap rating.
"We are aiming the Tunland at the kind of buyer in the market who wants a strong and good value ute," says Billman.
While the large chrome conk could be a magnet for magpies, the Tunland is not a bad looker.
The overlapping tail is unique to the Tunland and embossed body details on the rear three quarter panels give depth.
A big "C", denoting Foton's Cummins diesel engine, grabs your attention when you open the door. A wheelbase width of 3105mm and 5130mm in length, means the Tunland is not exactly petite.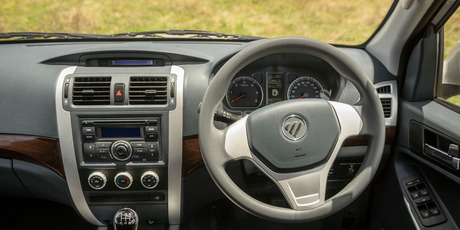 The interior is very "essence of car". Every button is laid out where you would expect and easy to comprehend. Comfortable seats mean it doesn't take long to settle in. Lots of head and leg room is another bonus and rear passengers are given considerable space.
The base Tunland featured here gets air con, USB/AUX connect, electric windows and electric mirrors. Top of the range luxury models get Bluetooth connectivity, leather trim and rear parking sensors.
The Tunland's Cummins ISF 2.8-litre four-cylinder turbo-diesel engine has its roots in heavy duty machinery and packs a tonne of guts, emitting the archetypal chugging diesel bass line.
At speed - after some mild turbo lag - the Tunland's 120kW and 360Nm of torque comes into play. That's enough oomph in anyone's language and the 8.4l/100km which results is not bad either.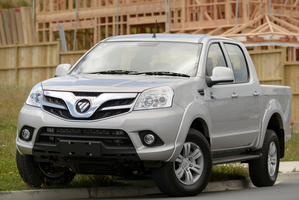 The optimum torque band is between 1500rpm and 3000rpm, meaning the lack of a sixth gear is rarely missed. The Tunland will also happily tick over at 2000rpm at motorway cruising speed, though sometimes you wished you had cruise control.
The German-built GETRAG five-speed is the only gearbox on offer, which you have to be firm with when swapping cogs. There is no automatic here folks. Steering is feather light but feels slightly wayward when on the move.
The Tunland's girth means you are going to need those premium sensors when parking. Plus, a tighter turning circle would have been appreciated.
Heading off the beaten track, the Tunland gets the job done, though with no low-range drive or locking diffs, the rough-as-guts unknown is not up its street. All Tunlands come with 245/70R16 GT Radial shoes, which give you a supple ride and decent amount of grip.
Looking around the construction site there were a few competitors for the no-frills workhorse Tunland, but with lunchtime up, the potential buyers headed back to work.