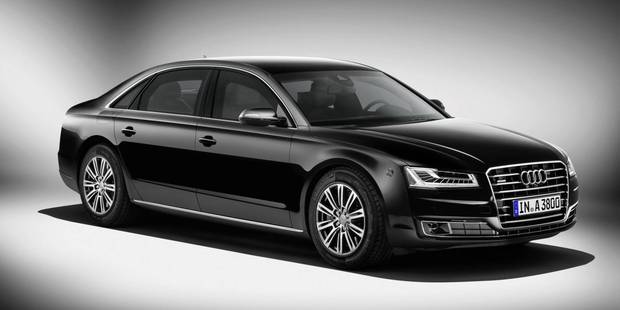 If you're job involves chauffering highly important dignatries around all day, or if you are really paranoid, then Audi has the perfect car for you.
An amoured version of the Audi A8 L, the 'High Security,' is Audi's take on a amoured luxury car for trips to the shops, or nuclear apocalypse bunker.
While Audi have made a few subtle changes to the regular car for next year, the Security comes with options worth considering if you suffer from paranoia.
A modified aluminium body with 'classified' armour plating takes workers 450 hours to make and fit in a secure production zone.
With windows, Audi use special glass with a splinter-inhibiting polycarbonate layer on the inside. A loudspeaker system is incorporated into the car, so passengers can call out to bystanders outside.
The A8 L Security complies with the class VR 7 ballistic protection standard set by the German Ballistics Testing Centre in Munich. The tests proved the Security can with stand NATO sub-machine gun fire, military hand-grenades and even an explosive charge, while leaving the occupants unscathed.
Buyers can choose from a range of optional extras, inclduing an emergency passenger exit system, fire extinguisher, built in phone and emergency fresh air system. Though things like smoke screen and oil slick seem unlikely at this stage.
Special tyres are fitted to cope with the extra weight from all the amoured add ons, though Audi are keeping tight lipped about how much extra weight there is.
The car is no slouch. Power comes from either a 4.0-litre V8, 320kW/600Nm or 6.3-litre W12, 368kW/625Nm. An eight-speed S-Tronic box is featured aswell, meaning zero to 100km/h is achieved in 7.5 (V8) and 7.1 (W12) respectively.
Production is expected to start in the second half of this year.