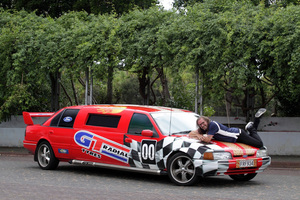 The annual Variety Bash fundraising event for sick, needy and disadvantaged kids gets under way again in March and will see a convoy of colourful characters and their unique vehicles departing Auckland on Saturday, March 15 and travelling throughout the central North Island and East Cape.
The GT Limo team, sponsored by GT Radial tyres and captained by Ewen "The Westie" Gilmour, got their fundraising effort under way in November with a show'n'shine at Hampton Downs.
The event was a great success which saw more than 100 cars and motorbikes attend, with owners and passengers enjoying some controlled laps around the track.
"Almost $2500 was raised on the day, which was a fantastic start to our fundraising drive and goal of reaching $10,000," said Gilmour, a long-time Variety ambassador.
"It's a challenge in these lean times to attract sponsors and generate donations, but I'm confident we'll manage to achieve our target as New Zealanders are very supportive of the work Variety does to help improve the lives of Kiwi kids."
One initiative the team has developed includes a charity auction, with a selection of unique or unusual items up for grabs on Trade Me by searching GT Limo. Gilmour has donated two of the auction lots.
"It would be fair to say I'm the country's most widely recognised marriage celebrant, so a wedding with me certainly can be a wedding with a difference."
To complement the big day, there are two jewellery lots available as part of the charity auction.
The first is the chance to bid on wedding jewellery, courtesy of Charles Lewis Fine Jewellery, to the value of $3000.
Its team of experts are specialists in designing and manufacturing highest quality rings and jewellery sets, ensuring your jewellery is an eye-catching addition to your big day or any occasion.
And just in time for Christmas is the chance to buy $1000 value of items from the Michael John Jewellery designer collection, specialist in high-end fashion modern classic jewellery.
Other items include a set of new passenger tyres courtesy of the GT Limo sponsor, GT Radial tyres, and the opportunity for your car to feature in Driven's Me and My Car column.
Gilmour is also donating a show to the auction effort.
"It could be a show just for yourself and your special someone, a work social club event or after-dinner comedian," he said.
Visit Trade Me.co.nz and search GT Limo to view auction items.