Three titles this year ... now the mission is to defend them
New Zealand has produced another young world-class rally driver this year. Michael Young, 21, and his co-driver, Malcolm Read, have had a remarkable year in the Asia Pacific Rally Championship, setting records on the way.
The pair are the first drivers to win three different championships in the APRC in one year - the Asia Cup, the Junior Cup and the Two Wheel Drive trophy.
Young is also the youngest driver to win the Asia Cup and the first to win the title in a two-wheel-drive car.
During the three rounds in Malaysia, Japan and Thailand, Young and Read kept to the plan they've had all year - drive to the conditions.
"It's unbelievable," said Young. "At the start of the last round in Thailand I never even thought about being Asia Cup champion, but it's been such a crazy event with lots of ups and downs and we've ended up on top.
"We also had to go up against fast drivers in good four-wheel-drive cars but, unfortunately for them, they all ran into troubles and had to retire.
"I never thought we could win three titles, especially in a 1600cc two-wheel-drive car [a Toyota Vitz RS]. The year's just gone so well and a few things just fell into my hands."
Young does himself a disservice by saying things fell into his hands. As in all motorsport, points mean prizes and to get points you have to be consistent.
Young and Read weren't sucked into the game of trying to set the fastest time in every stage. Rather, they were acutely aware that crossing the line in one piece was the most important factor.
"We had only one problem all year and just tried to look after the car," Young said.
"In places like New Zealand you can go flat out and not really hurt the car, but the roads in Asia are really rough and you can easily wreck the car.
"The team and Malcolm have been really awesome and everything has gone really smoothly which made it so much easier for me."
Young's team is a joint venture between Japan's Cusco Racing and Toyota Racing Development.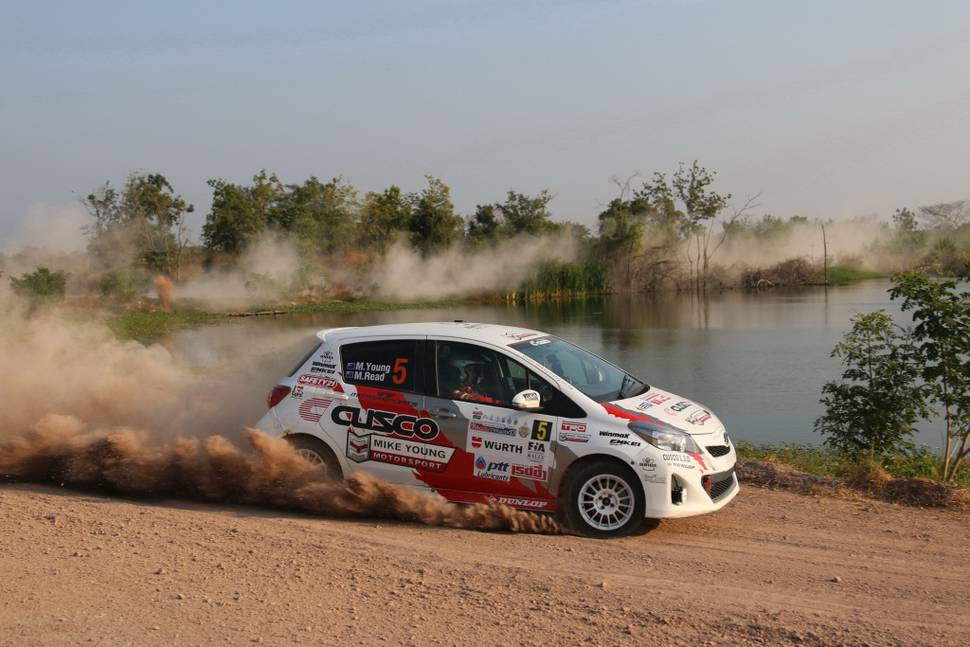 The Vitz was first seen at Rally Hokkaido last year, and Toyota is regarding the APRC foray this year as a possible opportunity to further develop the car as a championship contender.
While not well known in New Zealand, Young has been a regular driver for Cusco Racing since 2011, winning the APRC's Junior Cup class in New Zealand and Australia last year and the Junior Perlis Rally in Malaysia the year before.
The Junior Cup was introduced in 2011 for drivers aged 28 years or younger, driving homologated two-wheel-drive cars with a maximum engine capacity of 1600cc.
Young has taken to his full-time job in the APRC, and has learned a lot from the experience.
"The biggest thing I gained from the season was that consistency is the key. You have to have a plan for every event and finish every event.
"In rallies we hadn't raced before, like Malaysia and Thailand, the plan was just to finish and a good result was a bonus.
"This events are so tough on the cars. It's hot, dusty and rough and it's all about who makes it to the finish."
Over the summer break Young is returning to his home base in Perth, where he will work on plans for next year, although he says nothing is confirmed yet.
"I will do everything in my power to make sure I'm back next year. I now have three titles to defend, so I will be trying my best to get back for next year but funding is always tricky.
"But we are talking to Toyota and hopefully will know soon if we can organise a package to defend the three titles," said Young.
The APRC series starts again in April with Young's local rally, the International Rally of Whangarei in Northland, before going to India, New Caledonia, Australia, Malaysia, Japan, China and Thailand.
He'll have some competition next year as Renault and a few other manufacturers are looking to join the fray.