V8 Supercar supremo fights all the way to the finish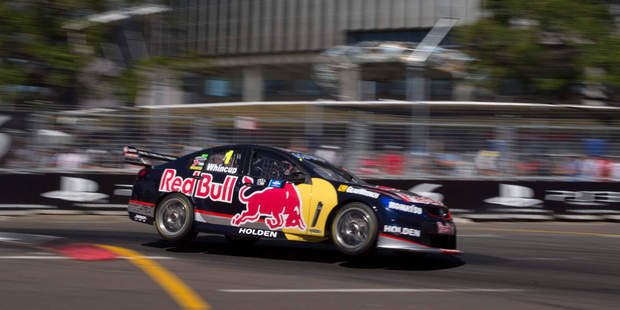 Australian V8 Supercars driver Jamie Whincup continued his march towards V8 greatness by snaring his fifth title over the weekend on the streets of Olympic Park, Sydney.
Heading into the last race of the weekend, the Melbourne driver only had to finish 22nd to have his name etched on yet another title trophy.
Ever the racer, the Red Bull Racing Australia pilot was banging door handles with Jason Bright, clipping walls and riding the kerbs in an effort to get on to the back wheel of race leader Shane van Gisbergen.
He never let up right to the end of the 73-lap race and had to follow Bright and the Kiwi over the line.
Whincup has won his five titles in six years - James Courtney sneaked in a championship in 2010 - and now joins the demigods of V8 racing, Mark Skaife, Dick Johnson and Ian Geoghegan, with a quintuplet of series trophies. "The number is massive. I must admit I was happy with my first championship, to be honest, and we just kept plugging away here," said Whincup.
"I just can't help but race. These boys were banging the walls at every second corner. It was really good to watch. I was more of a fan than anything else. It's incredible sitting here with five championships. I am a huge fan of Skaife and what he did, so to join him on that number of championships is an honour."
Five titles in what is probably the hardest saloon car series outside Nascar must be a great feeling for a bloke who at one time was told he might not be good enough to have a career in the championship.
"It's a great story getting a start in the category and then missing out on 2004," he said. "I don't want to dwell on the past, but I got back in and I went and had a meeting at the end of 2005 and I said 'I'll pretty much drive for nothing - just give me an opportunity'.
"I had some pretty high-calibre people tell me 'don't join the team [Triple Eight]. Craig Lowndes makes all his teammates look really ordinary. You'll end up back on the scrap heap'.
"But I backed myself, got a really good bunch of guys around me to really help me out and we started to move forward and develop."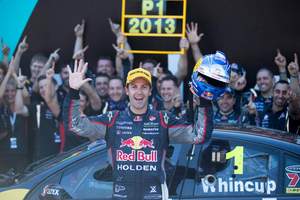 Well, the table has certainly turned and it's Lowndes who is chasing the game these days. He has three titles to his name, the last in 1999, and has finished second to Whincup for the third year in a row and five times in all.
The weekend belonged to Van Gisbergen, who notched up a win in the last race of the season. Fabian Coulthard's charge to stay fifth in the title started to unravel in race one. He made a great start to run fifth by the end of the first lap and then inherited two spots as Mark Winterbottom and Lowndes battled on lap 14.
Coulthard stayed in third for the rest of the 250km race before Van Gisbergen put him in the fence on the penultimate lap. Coulthard limped home in 19th. Van Gisbergen was pinged with a 20-point penalty, but things didn't get any better for Coulthard in Sunday's race. He qualified poorly back in 15th but only needed to finish 12th or better to retain fifth in the championship. He made it up to the required spot only to have the gear linkage break on the last lap and limped home in 15th.
The win in race two catapulted Van Gisbergen into fifth in the championship - his goal for this season - and Coulthard dropped back to sixth, one spot outside his goal.
"I think I said on the radio on the last lap that this day last year was the worst day's racing that I've ever had," Van Gisbergen said, "and this year is the opposite. It's been amazing."
Final points
1. Jamie Whincup - 3094
2. Craig Lowndes - 2966
3. Will Davison - 2799
4. Mark Winterbottom - 2793
5. Shane van Gisbergen - 2508
6. Fabian Coulthard - 2501
7. Jason Bright - 2381
8. Garth Tander - 2322