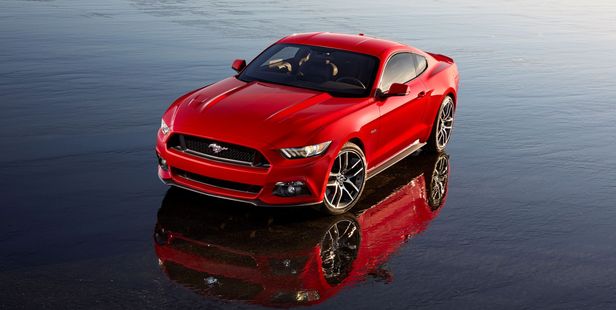 Ford has lifted the covers for a sneak peek of its Mustang, due to go on sale in New Zealand in 2015.
Last night at an event in Sydney, timed to coincide with events in Los Angeles, New York, Detroit, Shanghai and Barcelona, Ford released full details of the iconic car, which is now entering its 50th year of production.
The good news is that there will be a V8 version on offer, despite persistent rumours to the contrary. We will also see a 2.3-litre EcoBoost turbo four cylinder, and Kiwi pony fans will have the choice between coupe and convertible.
Mustang GT is powered by a new iteration of the 5.0-litre V8, with upgrades to cylinder heads and valve train that, in the US spec, will make 313kW and 529Nm. Revisions to the intake manifold promise better fuel economy, stability at idle and lower emissions.
The EcoBoost combines direct injection, variable valve timing and a turbocharger to offer solid fuel efficiency while still making a respectable 227kW and 407Nm.
Ford New Zealand sources say the car will be on our roads in 2015, but exactly when is not yet known. Speculation is that it will be in the third or fourth quarter as the Mustang is a global model for Ford and left hand drive markets will take immediate priority.
The right hand markets to get Mustang will be New Zealand, Australia, South Africa, the United Kingdom and Japan initially.
Aside from the much-needed independent rear suspension, there will be manual and automatic versions of offer, with New Zealand and Australia taking exactly the same specifications. In typical Mustang fashion there will be a great deal of upgrade options, including the obligatory bonnet-to-boot GT stripes and a wide palette of colour options.
The covers were lifted to rapturous applause at the simulcast event in Sydney. Not surprisingly in its bid to take the legendary Mustang to the world market the car follows quintessential design queues - the long bonnet dropping away to a blunted shark nose front, the three strikes through the rear taillights, large galloping mustang between them. In terms of design, it's everything that we'd expect from our first proper Mustang in right hand drive.
It makes sense for the Mustang to be aimed at right-drive markets - in 2006 it sold a whopping 165,000 vehicles in the United States, last year that had dropped to 83,500 and so far this year it's sitting at 72,000.
The Ford Falcon will cease production in 2016, with the Geelong and Port Elizabeth plants closing in Australia at the same time. Ford will continue to run a design centre in Australia.
Full details on the new Ford Mustang in next Wednesday's Driven.