Investing in a new VW Golf makes a good deal of sense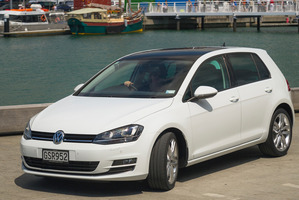 Paul is looking at updating his car and has always had a strong desire to own a European brand. He likes their long-established reputation for excellent safety and road handling attributes, although he is constantly reminded about higher service costs and reliability issues some owners face.
"Has anything changed in recent years with regards to improvements in reliability" is the question Paul is asking.
He is looking at buying a new or near-new vehicle but ownership is likely to take him beyond any warranty period.
Should he forfeit a perceived better driving experience in return for possible lower overall ownership costs?
The Budget: $45,000
Well Paul, in one of my past roles within the motoring industry I was involved in mechanical warranty insurance where individual policies were priced on make, model, age and mileage.
The cost of a policy was based on the financial risk the underwriter was exposed to with a car's history a major factor.
Policies for European cars were always a lot more expensive to buy than those for mainstream vehicles sourced from most other countries including Japan, Korea and Australia. High-performance vehicles of any brand were also treated differently in terms of cost if a mechanical policy was accepted.
From my experience, some customers of older European cars would buy only if a mechanical warranty policy could be purchased and they would also consider selling the vehicle once the policy had expired.
To be fair to some of the older European vehicles, the high financial risk was because the cars were more highly speced compared with other brands so, potentially, there was a lot more to go wrong. And it often did.
For many drivers, the Euros are inspirational brands to own.
A couple of months ago I experienced the new BMW 320i Edition 30 (with a recommended retail price of $75,900) for a week. Such was the positive experience that the car was added to my "if I win Lotto" list.
The flood of European used imports into New Zealand has made these vehicles a lot more affordable for many but has also created many horror stories within the industry with expensive repairs not uncommon.
But when it comes to safety and driving dynamics most of the older European brands have a definite edge over other mainstream vehicles of a similar age and for many that is a good enough reason to buy regardless of the potential higher running costs.
That gap has definitely narrowed in recent times with safety especially high on the agenda for all manufacturers.
On the flip side, most European brands have also made big gains in mechanical reliability.
What all buyers have to remember is that the electronic technology in all cars is getting very sophisticated and complicated so any vehicle out of warranty will potentially be very expensive to repair if faults develop.
If sales are any indication of a better acceptance of the European brands in New Zealand then look no further than Volkswagen.
Prices are now better aligned with their non-Euro competitors but so, too, is overall reliability if you listen to owners and mechanics.
They have had their dramas with auto transmissions on some models in recent times but they are not alone on that front.
Volkswagen, headed by the Golf (from $32,250), Tiguan (from $39,990) and Polo (from $22,990) model range, is eighth for passenger cars sold this year ahead of Nissan, Honda, Kia and Subaru. BMW is 12th and enjoying very strong sales.
So, if asked would I recommend somebody buy an old, high-mileage European vehicle, the answer would be no. If asked if I would recommend somebody consider a new or near new European vehicle the answer would be yes, but still consider getting an extended mechanical warranty policy just to be sure.
One of Apple founder Steve Jobs' favourite sayings was "it's very difficult to make things simple, it's far easier to make things complicated". The Japanese and Koreans especially are still the masters of simplicity.