Nissan has replaced old favourite Maxima with a slimmed-down version, the Altima, writes Jacqui Madelin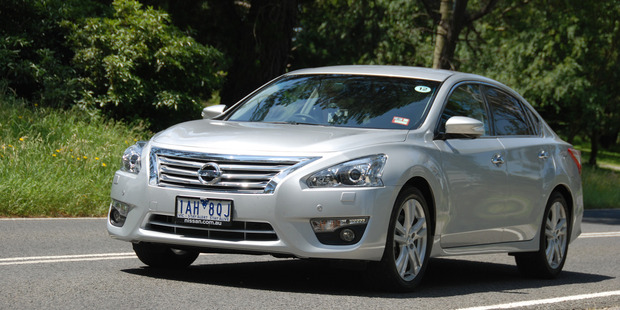 Nissan didn't have to manufacture excitement around the launch of its mid-size Altima - that came ready-made via the build-up at Australia's Phillip Island race track ahead of last weekend's V8 Supercar round. The four Altima-based cars were fettled in the pit garages to underline Nissan's renewed attack at the Supercar title, which it launched in March.
Altima's arrival marks the disappearance of Maxima from our roads, a casualty of our move to smaller vehicles and SUVs - the large car segment made up 18.8 per cent of the New Zealand market in 2004, it was 5.2 last year.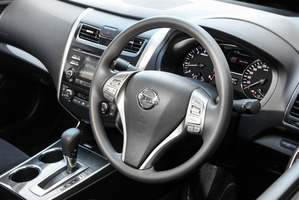 Not that Altima is small, at least in terms of volume. It's longer and wider than Toyota's Camry, longer than the Mazda6, 42mm longer than Maxima and 3mm higher, albeit 30mm narrower, with only a single millimetre difference in wheelbase. Altima's boot is actually bigger than Maxima's, at a generous 488 litres. The only place it's smaller is under the bonnet, where we get the 2.5-litre four-cylinder motor derived from X-Trail's unit, not the 3.5-litre six the Australians will also see, or the V8 fitted to those supercars, a derivative of Patrol's powerplant.
Altima's a popular nameplate in the US, where some 20,000 a year are sold, but it's new Downunder to anyone who hasn't followed its debut at Supercars circuits.
It's a handsome car, with sleeker looks than the slightly stodgy Maxima, especially up front, though the cabin retains a rather bland look. Mind you it's easy to live with, and practical - with plenty of space under the armrest, handy cupholders, and a glovebox deep enough to swallow my forearm whole.
We'll get our cars from Thailand in ST base specification, at $43,990 including ABS, brake assist, stability and traction control, 16-inch alloys, Bluetooth, cruise control, steering wheel controls, and keyless entry and start.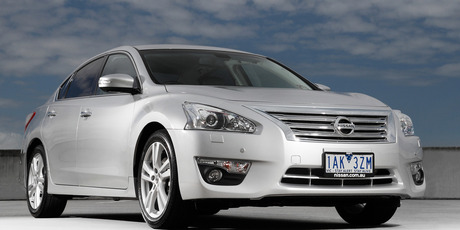 Not enough? Nissan's thrown the options catalogue at the top-spec Ti variant, which gets the same engine and a features list that includes satellite navigation, 18-inch alloy wheels, a blind-spot monitor and lane departure assist, a rear-view and surround-view cameras, a Bose audio system, eight-way power-adjust leather seats and a powered rear sunshade for $53,490. Maxima prices, in other words, albeit with modern flourishes like NissanConnect in the Ti, which brings Smartphone functions like Google and Facebook to your car.
But not Maxima thirst, for our extensive drive showed an average of 7.8l/100km after a stint of crowded Melbourne city and busy motorway driving, plus some open highway. That's just above the 7.5l/100km claim on 91 octane, though it climbed to 8.4 after an aggressive strop through the hills, followed by sedate open-road cruising as we neared the track, admittedly with all our driving time in Drive or Sport mode with the Eco button ignored.
That strop revealed a car far better tied together than Maxima, the back roads certainly showing the suspension off to advantage. The multi-link rear and independent strut front suspension felt sufficiently compliant for comfort, with rebound damping better managed than the outgoing car, and much reduced body roll.
No doubt we were assisted by the "active understeer control", which reads the amount you're turning the wheel, decides whether intervention will be needed to help, then uses the traction control aids to apply brake force on the inside front wheel to help you rotate round those bends rather than plough through them.
Whatever it was, the 183kW/312Nm V6 variant in which we circled Phillip Island felt far more confident than the Maxima would have, largely because of that better suspension response, and no doubt the understeer control.
We had the tyres whining on several corners with barely a hint the car was about to drift wide, while Supercar driver Rick Kelly in a GTR set the pace - at a rate no doubt intended to flatter the fleet of sedans behind him. For Altima's clearly not a sports car, even if it won't baulk at a press-on approach, and it's probably at its best while cossetting a more sedate driver.
This transverse-mounted 2.5-litre engine delivers 230Nm at 4000rpm and 127kW at 6000 to the front wheels. That's a whisker more torque than Maxima's 2.5 V6 and strong enough to please most drivers, most of the time, though we did wish we could manually change gears on the new Xtronic CVT auto, first seen in Pathfinder.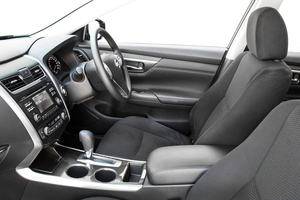 Nissan executive vice-president Andy Palmer likes the smoothness and efficiency of CVTs, but as a keen motorcyclist he's aware their ramp-up characteristics leave something to be desired, and he's keen to deliver something closer to a double-clutch transmission in terms of feel.
Altima seems to have benefited. Sport mode conveyed audible gear steps at three-quarter throttle and a fruitier note, though there was still that typically busy CVT soundtrack under full acceleration - at least Altima's is fairly subtle. But there are no audible gear-steps at full throttle, and even when there are, the car still changes gear for you if it thinks you're thrashing it.
That proved especially frustrating given the four-cylinder has no other way to hold a specific gear, important if you want to settle the car when tackling corners at speed. However, Altima buyers are unlikely to worry overly much.
It seems a shame the Ti, at least, doesn't get the paddle shifters fitted to the V6 variant.
After a full day in the car, we particularly appreciated two attributes; how quiet Altima's cabin was over Australia's admittedly smoother road surfaces than our coarser chip, and how comfy these seats are.
Nissan calls them "zero gravity", and says it used Nasa research when developing them to deliver neutral gravity that cuts muscle and spine load and improves blood flow. This research wasn't exclusive but was certainly put to good use, as we emerged from a long day in the saddle as fresh as when we arrived.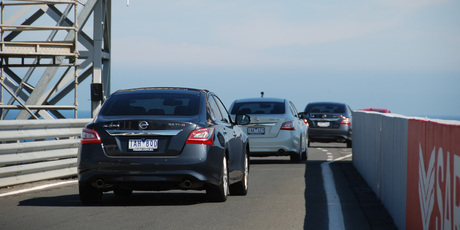 Nissan's had a fairly quiet time of 2013 in a busy and competitive market, but many of its models are on runout. Managing director John Manley confirms the new X-Trail will arrive at the end of the first quarter, 2014, Pathfinder hybrid and Qashqai's replacement in the second quarter, then Pulsar S sedan, and he's hoping for a sales boost from a fresher line-up.
Meanwhile he's quietly confident Altima will hit the spot with customers, especially if he can draw fleet orders against hot price competition from larger players.