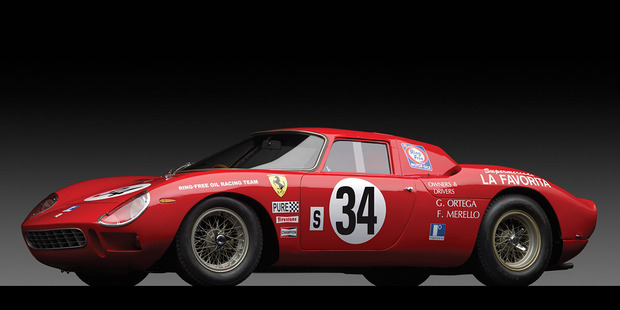 Record prices were set and some truly luscious metal went under the hammer at the recent Art of the Automobile auction held in New York by RM Auctions and Sotheby's.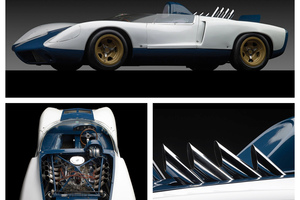 A stunning US$62,797,500 ($76,506,000) of sales were made during the two hours of bidding, with top honours going to a 1964 Ferrari 250 LM, which sold for US$14,300,000 establishing a world record for that particular model at auction.
Taking the No2 spot was a stunning 1938 Talbot-Lago T150-C SS Teardrop Cabriolet, which sold for US$7,150,000 ($8,710,752), also setting a world record for the model at auction.
Of the 31 cars on auction, 16 sold for more than US$1 million while 11 set world record prices.
Out of all the staggering metal on display, there is one car that The Good Oil is rather surprised went for a bargain price - if you consider US$1.1 million a bargain, that is.
Lot number 139 was a particularly rare beast, being a one-off research vehicle, the Chevrolet Engineering Research Vehicle II - or CERV II to its friends - which is the first known operating example of a torque-vectoring all-wheel-drive system.
Created in the 1960s by "Father of the Corvette" Zora Arkus-Duntov, the CERV II was the car that the Corvette was (and continues to be) rumoured to be, a mid-engined supercar. But one with a twist, especially for the time, as it also had AWD.
The fact that a one-off car with a serious history went for "only" US$1.1 million while a 2011 Bugatti Veyron 16.4 Gran Bleu Nuit went for more than twice that suggests that it was, indeed, a bargain.
We are the world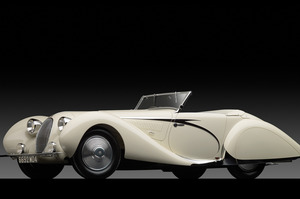 *A United States man is selling one of his testicles in order to buy a Nissan 370Z. Mark Parisi decided to sell one of his two closest friends to medical research for the grand total of US$35,000 ($42,640) and revealed in a recent interview that he intended to buy a 370Z with the money. While The Good Oil likes the 370Z, we would certainly need far better than that to lose one of our lads.
*Richard Delarosa from Austin, Texas, clearly didn't think through his plan when he tried to escape from police in not one, but two Smart Fortwos. Delarosa was a member of the Car2Go short-term car rental business (which hires the diminutive Smarts by the minute) and was spotted by police speeding in one of the outfit's cars. They chased, he ran _ then crashed _ before jumping into another conveniently located Smart. This time he went down a dead-end street and was caught. A Car2Go spokesperson says they will ''evaluate'' his membership.
*Clearly sick of the police getting all the headlines with its ever-increasing fleet of supercars, the Dubai fire department now has a Corvette Stingray alongside its fire engines. It probably can't carry much equipment - or many firefighters, but it sure will get to the fire fast.
No air? No problem!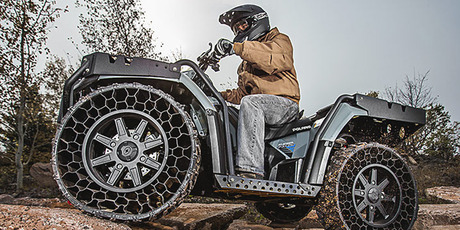 If that long-promised zombie apocalypse were to happen now, then at least we have
found our high-speed escape vehicle to accompany our various favourite heavily armoured zombie-squishers - the Polaris Sportsman WV850 H.O.
Basically the same MV850 ATV Polaris built for the US military, the rather awesome Sportsman features a single-speed transmission, a steel exoskeleton, a 680kg towing capacity, a 45-litre fuel tank and those amazing TerrainArmour non-pneumatic tyres. Those tyres are said to be able to withstand a direct hit from a .50-calibre round and still travel 560km, or run over a railroad spike and still go more than 1600km.
Starting at US$14,999 ($18,273), we now know what we want for Christmas. And the end of the world ...
Volvo aims to capture cop market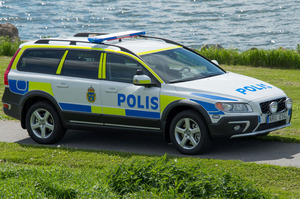 Although the Holden Commodore is all but ubiquitous as a police car in this part of the world and the legendary Crown Vic is still the familiar United States cop cruiser, despite it going out of production a few years back, a European manufacturer is looking to make inroads into the global police car market. And no, it isn't BMW.
It turns out Volvo has grand plans for its XC70 D5 AWD in the global rozzer-mobile segment following the development of a new ''police spec'' chassis set up that was praised by the Swedish police as being the best car in their fleet following extensive tests.
''The vehicle fleet of the Swedish police is subject to the most stringent demands in the world and the Volvo XC70 D5 AWD is the best police car we have ever offered,'' says Volvo business manager Ulf Rydne.

''We see a clear opportunity to increase our sales on a number of markets, both in markets where we previously had a presence as well as in entirely new markets.''
At present Volvo sells only about 550 police cars every year - most of them in
Sweden where it has close to 90 per cent of the market - but Volvo police cars can
also be found in Britain, Belgium, the Netherlands and Switzerland, and the company aims to double its numbers in the coming years.
''Already now, we are in discussions with at least a dozen different police forces around the globe, seven in Europe, two in the Americas and three in Asia,'' Rydne said, ''and we are determined to add more to that list.''
Number Crunching
14.3 MILLION The US dollar price the 1964 Ferrari 250 LM fetched at the Art of the Automobile auction.
17 MILLION The US dollar price of the second most expensive Ferrari sold at auction, a 1957 Testa Rossa sold in 2011.
27.5MILLION The US dollar price of the most expensive Ferrari sold at auction, a 1967 275 GTB/4 NART Spyder.
52 MILLION The staggering US dollar sum a Ferrari 250 GTO is rumoured to have sold for in a private sale recently.