A wide selection of oldies and goodies, as well as a new class, are on hand at Pukekohe to give the series even more wheel-to-wheel action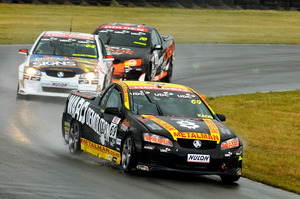 UDC V8 Utes
The popular UDC V8 Utes will be out in force this weekend as their action-packed season draws to a close. The series has been wowing crowds for many years. With the combination of close racing, talented drivers and a thundering V8 soundtrack, it is easy to see why this "no frills" series has been such a success with fans. Both the Holden VE Commodore and Ford FG Falcon Utes are able to be bought, leased and prepared to race. This makes the series very accessible for those of us who want to cut their teeth in competition. Drivers like Chris Pither, Andrew Waite and Matt Lockwood are V8 Ute series winners and this weekend could see championship leader Chris Hanley join that list of champions. But runner-up drivers Mike Lightfoot and Peter Ward may have something to say about that.
Winger Suzuki Swift Sport Cup
The Winger Suzuki Swift Sport Cup will make another appearance at the Mike Pero 500. Identical race prepared Suzuki Swift Sport hatchbacks driven by a host of local up and coming drivers will go wheel to wheel for Championship supremacy.
With a one-make race series the skill is down to the driver, so despite the lack of blistering performance, the Swift Sport Cup delivers on good racing.
Encouraging young drivers like Josh Drysdale and Shaun Lawrence, the Cup never fails to disappoint.
TR 86
The newest class set to wow the crowds at Pukekohe is the TR 86 series, a one-make race series featuring race-prepared variants of Toyota's 86 sports car. The series saw its opening round at Highlands Motorsport Park in Cromwell for the final round of the Australian GT Championship. The series is bound to grow in popularity as the 86 has been such a success in Toyota showrooms around the country. It's great to have the cars at Pukekohe for the first time as a support class for the Mike Pero 500.
Central Muscle Cars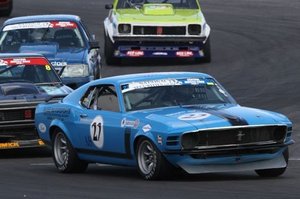 Founded in 2003, Central Muscle Cars is a class filled with blue-blooded V8 power. A grid made up of classic American and Australian muscle cars made between 1958 and 1978 going head to head on the track is a great moment of sight, sound and smell.
There are two classes, Group 1 and Group 2. Group 1 allows the competitors to have more freedom when race-preparing the car, like front spoilers, wings and other composite panels. Group 2 is more restricted and best left to purists. Either way, its a good 'un.
Kuhmo Pre 65
The Kuhmo Pre 65 class provides race fans with dose of nostalgia. The cars, as the name suggests, must be built before December 31, 1965. They must retain their original bodies, engine and gearbox parts in production before Dec 1965. Limited slip differentials are not allowed and brakes are heavily restricted too. Do not be fooled, the cars in the Pre 65, such as Minis, Mustangs and Ford Cortinas, are pure race cars and it a great weekend of racing
Motul Honda Cup
The name speaks for itself. The Motul Honda Cup is a series for lovers of the screaming race-prepared Honda. Civic and Integra drivers battle it out on the track. Now in its sixth season, the Motul-backed Series continues to attract strong grids and provide competitive and enjoyable racing for both new and experienced Honda enthusiasts.

Cognet V8 Challenge Cup
The Cognet V8 Challenge Cup is the principal support category of the New Zealand V8 SuperTourers and provides drivers a cost-effective way of racing a V8 touring car on the national stage. The V8 Challenge Cup scholarship Star of Tomorrow provides a perfect opportunity for up-and-coming drivers in this category to try and secure a drive with one of the V8 SuperTourer teams for the following season.
NZ Porsche Championship Series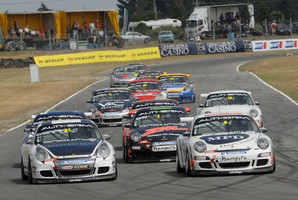 German race engineering meets Kiwi drivers in this category. The NZ Porsche Championship Series has been one of the definitive categories in New Zealand motorsport. Drivers like Craig Baird and Andy Booth have all had their share of Porsche Championship competition. The race-prepared 911 GT3 Cup cars used in the series are some of the most highly sought after race cars in the world and to have seen them for many years going wheel to wheel at speeds above 200km/h has to be seen to be believed.