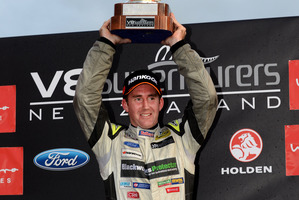 Australian driver Warren Luff will join John McIntyre for the final V8 SuperTourer round at Pukekohe Raceway this weekend.
He comes into the series as the newly crowned V8 Supercars Endurance Cup Champion, partnering Craig Lowndes at the recent Sandown 500 (2nd), Bathurst 1000 (3rd) and Gold Coast 600 (1st) to claim the title.
With current endurance co-driver Jono Lester unavailable for the Pukekohe event, McIntyre was quick to snap up the highly rated V8 endurance driver Luff.
"Warren was at the top of the list when it came to selecting a co-driver who is quick and consistent for Pukekohe. It's no secret that we've had a trying season - actually our toughest in our seven years. We are taking on a maximum attack attitude to Pukekohe and I know Warren will be able to back me up as we try and win our first race of the season," said McIntyre.
Luff had his first drive in a V8 SuperTourer at Manfeild recently.
The series will join the NZ Grand Prix for the first time when it returns to the Manawatu circuit in February next year.
"We got 40-odd laps in and it's been great," said the 37-year-old Queenslander. "I've been watching all the races on TV back home and the cars look fun to drive and you guys have certainly put on some great racing this year. I was really keen to come over and try it myself and I love driving the car.
"It's not too far off the pace of a V8 Supercar but how it generates its speed is quite different. It doesn't have the horsepower of a V8 Supercar but the torque is really impressive coming out of the corners. The grip of the Hankook tyre is what is really driving it, and the durability of the tyre."- Eric Thompson