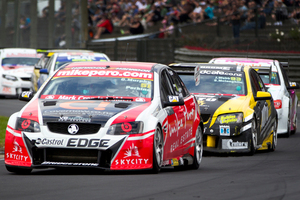 A whole new set of strategic challenges faces the SuperTourers teams at the Pukekohe 500 this weekend. The two 70-lap races will necessitate a fuel stop for the cars to get through their allocated laps. While introducing this curve ball at the final round of the series may not be to everyone's liking, at least it's a level playing field for all the teams.
"It's going to be good because we're not going to know 'til the first race on Sunday what everyone does," said John McIntyre, who has a new co-driver on board this weekend in Warren Luff.
"Whoever gets the strategy right the first time will look like a hero and then everyone will probably copy them after that."
Series operations manager Didier Debae says the seven-litre V8s will be able to cover 58 laps on a full tank of fuel and another 13 laps on one 25-litre refuelling can. That means that covering the 70 laps is going to be marginal unless teams put in more than the extra 25 litres - which means extra time in the pits, time that can be very difficult to make up on the track.
"Emptying one 25-litre can into the car will take about eight seconds," said Debae.
Safety-car periods - always a given in long-distance races - could have a big effect on the racing because teams are allowed to pit for refuelling while a safety car is out.
And if most of the cars head for the pits at the same time, there will probably be crowding, with some cars having difficulty getting in or out of their pit bay.
The Hankook race tyres have proved extremely durable, but 70 laps is a big ask for any tyre. It might be necessary to change just one tyre, the left rear, but the wheels have five studs and changing a wheel could take up to 20 precious seconds.
Refuelling is not permitted during the compulsory driver change, but can be combined with a tyre change.