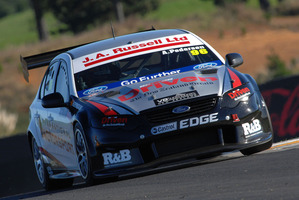 Touring cars have always been a staple of Kiwi motorsport, and despite a couple of years of politics trying to get in the way, we're still looking at some exciting four-door racing throughout the season.
This weekend sees the grand finale of the V8 SuperTourers hit Pukekohe Park Raceway with some of the country's top talents turning wheels in anger with a championship potentially going right down to the wire.
Pukekohe's flow has changed considerably since the V8 Supercars upgrade, which chucks a complex chicane on the back straight and, as we've already seen this year, makes for some hardcore door rubbing action.
Driven looks at who's in the hunt and what's going on out at Pukekohe over the weekend - it's promising some great racing and big crowds. As the deadline looms the sun is shining, but will the weather hold? Here's hoping - we'll see you all at the track.
Event timetable
Thursday, November 28
9:30am: BNT V8ST paddock entry - garage set up
10:30am: Support classes paddock entry and set up
12:00pm: Support class documentation starts
13:00pm: Toyota TR 86, UDC V8 Utes, Suzuki Swift Sport Cup commences 14:45pm: Toyota TR 86, UDC V8 Utes, Suzuki Swift Sport Cup ends
15:00pm: V8ST-V8CC documentation/sign on commences
16:00pm: V8ST-V8CC documentation/sign on concludes
17:30pm: V8ST- Cars drive to Pukekohe town centre to meet fans and give autographs.
Friday, November 29
10:00am: Motul Honda Cup practice
10:20am: NZ Porsche Championship practice
10:40am: Winger Suzuki Swift Sport Cup practice
11:00am: UDC V8 Utes practice
11:20am: BNT V8 Supertourers practice 1
12:10pm: Toyota TR 86 practice
12:30pm: Lunch
12:35pm: V8 Supertourer driver and co-driver on track group photo
12:50pm: Cognet V8 Challenge Cup practice
13:10pm: Central Muscle Cars
13:30pm: Kumho Tyres Pre - 65 Racing practice
13:50pm: Motul Honda Cup qualifying
14:05pm: NZ Porsche Championship qualifying
14:25pm: Winger Suzuki Swift Sport Cup qualifying
14:50pm: Cognet V8 Challenge Cup qualifying
15:10pm: BNT V8 Supertourers practice 2
16:00pm: UDC V8 Utes qualifying
16:25pm: Toyota TR 86 qualifying
16:50pm: Kumho Tyres Pre- 65 Racing qualifying
17:10pm: Central Muscle Cars qualifying
17:30pm: Toyota TR 86, UDC Utes, Suzuki, CMC hot lap rides on track
18:10pm: Circuit closed
Saturday, November 30
09:30am: Winger Suzuki Swift Sport Cup _ Race One: 25 mins
10:00am: Motul Honda Cup - Race One: 8 laps
10:20am: BNT V8 SuperTourers (co-driver) qualifying
10:45am: NZ Porsche Championship - Race One: 8 laps
11:05am: Kumho Tyres Pre - 65 Racing - Race One: 8 laps
11:25am: Toyota TR 86 - Race One: 10 laps
11:45am: Cogent V8 Challenge Cup - Race One: 8 laps
12:05pm: Lunch
12:05pm: BNT V8 SuperTourer pit lane walk and driver signing
12:35pm: UDC V8 Utes - Race One: 8 laps
12:55pm: BNT V8 SuperTourers (Main Driver) qualifying
13:20pm: Central Muscle Cars - Race One: 10 laps
13:40pm: Winger Suzuki Swift Sport Cup - Race Two: 8 laps
14:00pm: Motul Honda Cup - Race Two: 8 laps
14:20pm: NZ Porsche Championship - Race Two: 8 laps
14:20pm: Kumho Tyre Pre-65 Racing - Race Two: 8 laps
15:15pm: BNT V8 SuperTourers - Race One: 35 laps
16:05pm: Toyota TR 86 - Race Two: 10 laps
16:25pm: Cognet V8 Challenge Cup - Race Two: 8 laps
16:45pm: UDC V8 Utes - Race Two: 8 laps
17:05pm: Central Muscle Cars - Race Two: 8 laps
17:20pm: TV pack down -marshalls off circuit
17:35pm: BNT V8ST- V8CC hot lap rides on track
18:05pm: Circuit closed
Sunday, December 1
08:30am: BNT V8 SuperTourers hot lap rides on track
09:05am: Cognet V8 Challenge Cup - Race Three: 8 laps
09:25am: Winger Suzuki Swift Sport Cup - Race Three: 10 laps
09:45am: Kumho Tyres Pre-65 Racing - Race Three: 8 laps
10:05am: NZ Porsche Championship - Race Three: 8 laps
10:35am: BNT V8 SuperTourers - Race Two: 70 laps
12:05pm: Motul Honda Cup - Race Three: 8 laps
12:25pm: Lunch
12:25pm: BNT V8ST pit lane walk and driver signing
12:55pm: Toyota TR 86 - Race Three: 15 laps
13:20pm: Central Muscle Cars - Race Three: 10 laps
13:45pm: UDC V8 Utes - Race Three: 12 laps
14:05pm: Entertainment: 10 minutes
14:22pm: BNT V8 SuperTourers pre-race grid walk on track
14:45pm: BNT V8 SuperTourers - Race Three: 70 laps
16:20pm: BNT V8ST podium presentation
16:25pm: Circuit closed