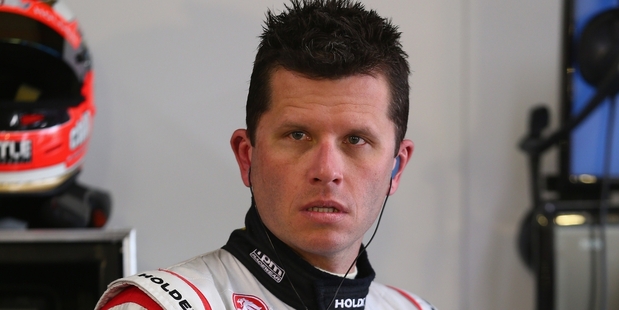 Garth Tander took out the bruising first race of the V8 Supercars round on Phillip Island yesterday.
Tander won a race which featured two yellow flags and a heavyweight dust-up on the last corner before the halfway break - with all four title-chasers (Craig Lowndes, Jamie Whincup, Mark Winterbottom and Will Davison) wounded - Holden driver Whincup returned to the top of the championship standings.
Tander steered clear of the mayhem to score his first win since Townsville in July. Fellow Holden pilot Fabian Coulthard kept his title hopes alive with second while Ford's Alex Davison completed the podium.
Whincup took control of the title race by finishing in front of his rivals in fourth, from 13th on the grid.
A dog fight between Lowndes and Winterbottom defined the first half of the split race. Winterbottom, starting on pole, was second to Lowndes by the first turn and fell to third on lap two - but the roles were reversed on the final corner.
Brought back to the pack by safety cars, Lowndes found himself on the outside of Winterbottom and ended up in the gravel. During the race split, Lowndes said he thought they'd be able to race two abreast but Winterbottom was thinking of the championship.
"You don't want damage but at the same time you don't want to let him win ... you're not gonna back off," Winterbottom said.
The biggest beneficiary was Tander, who skated through to the front, leaving Winterbottom in fourth and Lowndes back in 15th. While Tander didn't look back, Lowndes could only finish in eighth, while Winterbottom was fifth.
Earlier, a nudge from Shane van Gisbergen all but ended Ford's Will Davison's championship hopes. Davison was turned around by Van Gisbergen, labelled an "idiot" by Ford Performance Racing team boss Tim Edwards.
Whincup won out, slinking inside the two to climb to sixth. After the race restarted, Frenchman Alex Premat found himself careering through the gravel and crashing into the driver's side of James Courtney's Holden. Such was the damage, Premat had to help a shaken Courtney out from the passenger side. Courtney was later cleared of serious injury.
Heading into today's two races, Whincup leads the championship on 2623 points, 14 clear of Lowndes, with Winterbottom on 2535.
Tander was happy to get a boost from the feisty duel between Lowndes and Winterbottom: "The seas parted and I thought thank you very much, I'll take that," he said."It was quite uninteresting for me which is how you like it."
Coulthard agreed that the clash of the veterans was pivotal: "We all benefited from the Lowndes-Winterbottom incident. It was a pretty action-packed race considering no points were on offer for the first [half]." AAP