Jacqui Madelin meets a classic car fan who names her beloved cars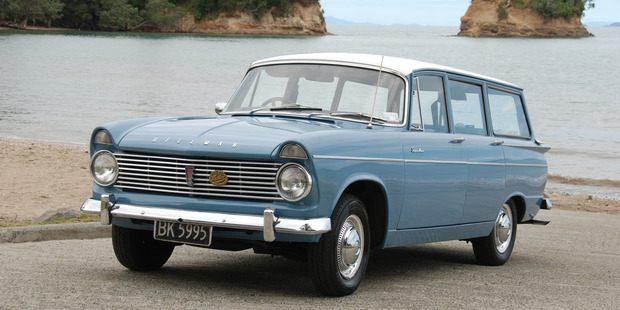 Ann Dimoline is a woman with an impish sense of humour and a growing collection of classic cars - mainly Hillmans and Humbers.
Fortunately her husband, Mike, has a streak of cheek to match, and clearly enjoys his wife's automotive eccentricities. Although, when I ask what prompted Ann to keep adding to her collection rather than selling a few, it's Mike who answers, "greed".
She giggles. And so do I; it's hard not to when you're swanning around Auckland's east coast bays, sun sparkling equally on chrome and water, Rangitoto in the background and the sky-blue seats and paint of this 1962 Hillman Super Minx MkII blending with the blues of an early summer seascape.
Mike is wedged among the Union Jack cushions out back while Ann tells me about this car, the only auto station wagon she's encountered in over 20 years as a member of Hillman-Humber car club. They've had it for 27 years. They discovered her Mini 1000 station wagon wouldn't fit the growing tally of children and labradors, "even if you're a sardine packer", so they traded up; they had a Humber 90, then sold that for this wagon, their "first decent one".
They kept it because it's unique.
"We've got nine cars, isn't that right Mike?" He says he doesn't know. "I know we've got four kids." We count the cars later - the eight Hillmans and Humbers (Humber bought Hillman in 1931 but kept the marque badge alive), George the pop-top Commer camper (which they use for weekends away), and an aged motorhome - oh yes, and a used Toyota Corolla, their first "new" car bought a year ago so Mike could guarantee he'd get where he wanted to, when he wanted to. I think the count's now 11 ... He's got a half share in the MkI Sceptre and a 1954 Humber 10, but the rest of the cars are Ann's; perhaps I shouldn't be surprised to hear most of them have names. Chanel the Hillman 3B, Toto the Humber 3B, Tommy the Gazelle ... .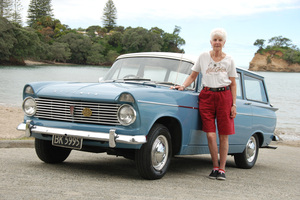 This Super Minx is powered by a 1592cc four-cylinder ohv in-line engine that delivers 46kW at 4800rpm shifting around one tonne of car through that BorgWarner auto. There's a live beam rear axle with half-elliptic leaf spring suspension and an independent front with coil springs, disc front and rear drum brakes and 13-inch wheels. This model was discontinued in 1964, Ann says. "The Singer Vogue and Humber Sceptre were developed from it."
Ann refurbishes her cars but tries to keep them standard, so this one's been repainted and upholstered in the original colours. The dash, AM radio and switches are original, and she had the chrome done. It didn't have seatbelts when it launched - it does now - and there's a new roof lining, although the door panels are original. The couple don't do all the work themselves: "We've got a good mechanic, a very good electrician and we always use Otahuhu Chrome Platers," Ann says.
"And we try to keep pace with the bills," quips Mike.
The cars are all up to scratch now - there's an album marking the wagon's refurbishment, which started in 2004, and others for each car, some of them the old story, stripping them back for a repaint revealed trouble that became the thin end of an expensive wedge. They try to keep them as original as possible, "they've been dollied up, refurbished and mended. We don't soup them up." They basically fix what's needed to keep them in good road-going condition, and repaint them if rust or bodywork is required.
The cars are rotated, to keep the batteries live and the total annual kilometres driven under 5000. They must have them stashed all over the place, but I've lost track as the pair of them trade good-natured banter among the piles of photo albums.
"My father was into classic cars and I've always been interested in them," Ann says. Mike just "goes along for the ride," he says, although he's been secretary and treasurer of the club so I think they're joking. It's true that Ann is the driving force behind their collection; but Mike is very much the reserve driver, even if today I've relegated him to the back seat.