Top firms come together in Tokyo with concepts, Kei cars and design updates, writes Matt Greenop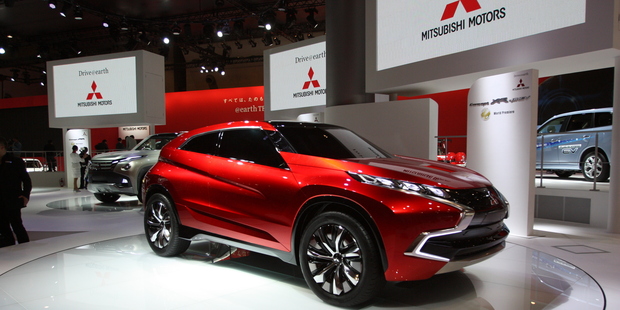 Madness is an understatement when it comes to the Tokyo Motor Show. Spread over several vast halls at Tokyo's Big Sight convention centre, the offerings span concepts, cars that are never likely to see the light of day and a fairly broad cross-section of the world's motoring brands.
Some bring vehicles that are destined to go on sale only in Japan's unique market.
So-called Kei cars, tiny citymobiles with power plants below 660cc are something you'll see only at Tokyo. These weird wee things look like Matchbox cars and came to be as a result of tax breaks which reduce the incredibly high cost of vehicle ownership in Japan.
During an industry forum on the eve of the Tokyo show, representatives from Jama - the automotive manufacturers' association chaired by Toyota boss Akio Toyoda - reflected on the country's recovery since the earthquake and tsunami that devastated Japan on March 11, 2011.
The group showed an unusually united front with presidents of all of the country's main carmakers contributing their thoughts and seemingly joining together to try to rekindle the country's love for the car, specifically for Japanese cars.
The balance has tipped towards foreign vehicles, and the Jama members have noticed their young are not as interested in motor vehicles - a huge swing for a country that was once united in its love for cars.
But, if the Tokyo show was anything to go by, Japan's car industry here has found a new vitality. It certainly wasn't only the Kei cars that were grabbing attention through the sprawling Big Sight halls. Some brilliant concepts were on show. Mitsubishi unveiled three that will prove heartening for fans of a brand that has arguably lost its way in recent years with a water-treading range that hasn't pushed the boundaries.
Its Concept GC-PHEV*3 is a full-sized SUV with full-time four-wheel drive mating a three-litre supercharged V6 with a plug-and-play hybrid system and an eight-speed transmission. At the smaller end of the scale, its XR-PHEV*5 concept ran a turbo MIVEC of just 1100cc into a front-drive configuration. Both are polarising in their looks, but signal a fresh perspective that MMC needed.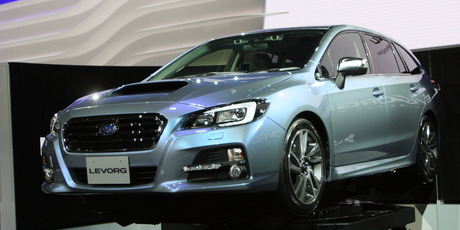 Subaru fans saw the unveiling of the dubiously-named Levorg - a smaller-than-Legacy wagon that won't see the light of day outside of Japan but offers a choice of two boxer engines in 1.6 and 2.0 form. Levorg does demonstrate the next generation of the company's EyeSight system though, which will find its way to us.
Aside from the sheer numbers of people through doors of the Tokyo Motor Show, the machines that you see on these pages bode well for an industry that has obviously seen a need to present a united front. Getting presidents of all major automotive players to stand on a stage together is one thing, but it's a different task breathing life across a market that had begun to go somewhat stale. Making it even more difficult is growing international competition - including China which, in another 10 years, could create an industry with the potential to take over world markets.
Japan has been a lifeline for New Zealand motorists in terms of the breadth of choice, and the introduction of Japanese imports has made vehicles of a very high standard extremely affordable for New Zealanders.
This refreshed Tokyo Motor Show just might spell a new dawn in a country where the smartphone has overtaken the car for the spending power of its younger citizens and there is a real need to keep the automotive industry alive.
Mazda 3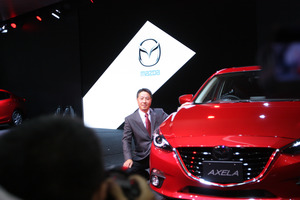 Mazda has entered the hybrid battleground with the launch of a battery-packing version of its freshly-launched Mazda3.
The hatchback, responsible for the lion's share of Mazda's sales around the world, including Japan, is a key model that the company's president Masamichi Kogai is hopeful will give it an edge at home.
Mazda also launched a CNG version of the 3, which is the third car in Mazda's range to offer a full suite of its SkyActiv technologies and its striking Kodo design language. Almost every car on the Mazda stand was dipped in its new hero colour Soul Red.
The hybrid and CNG-powered Mazda3 models are unlikely to ever go on sale in New Zealand.
The Mazda offering included an in-depth look at upcoming technologies like its advanced Human Machine Interface, which takes its connectivity to a new level. Driven has sampled this HMI system in a preview drive of the new 3 hatchback, and it is impressive. By the time you read this though, we'll have driven the hybrid version of the Mazda3 and an EV model of the baby hatchback Mazda2.
Nismo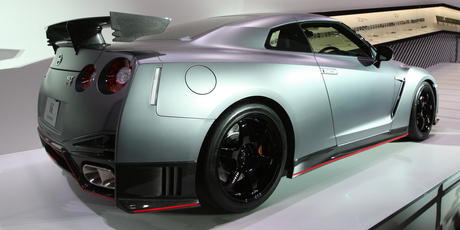 Just when you thought Nissan's iconic GT-R couldn't get any quicker, the boffins within the company's Nismo motorsport division have further enhanced one of the world's fastest machines.
While the current GT-R can slingshot to 100km/h in under three seconds, it is arguably an act of technological aggression rather than a driver's car. Layers of driver aids, vehicle handling assistants and other computer wizardry makes the GT-R unique. And while it doesn't suit those who like their driving to be an involving experience with a touch of sideways action, there is no argument that it is a special car.
The latest Nismo take on the GT-R turns the wick up even further, giving it an almost unbelievable 0-100km/h time that those in the know reckon will be under 2.5 seconds.
Nismo lifted the two turbos from the company's GT3 car and now the V6 can scream its way to 6800rpm. New Bilstein dampers combined with a special hollow composite anti-roll bar, increased body rigidity and suspension components from the GT-R that ran at this year's Nurburgring 24-hour race have increased stability and handling prowess, with final tuning touches completed by Williams Advanced Engineering. It is not yet clear whether the Nissan GT-R Nismo will sell in New Zealand.