Fantasy meets reality with AMG's addition to Gran Turismo game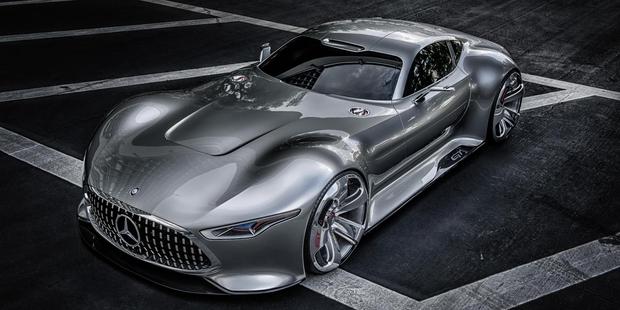 Mercedes designers have developed a concept super sports car, the Mercedes-Benz AMG Vision Gran Turismo, to co-incide with the launch of the new PlayStation 3 racing game, Gran Turismo 6.
The full-scale model Mercedes-Benz AMG Vision Gran Turismo celebrated its world premiere yesterday at the opening of the new Mercedes-Benz Research & Development Centre in Sunnyvale, California.
The super sports car with its hallmark Mercedes gullwing doors will take to the virtual racetrack when the new racing game goes on sale next month, as the first of the Vision Gran Turismo series of vehicles.
To mark the 15th birthday of the popular Gran Turismo series, Kazunori Yamauchi, producer of the Gran Turismo series and president of Polyphony Digital, called on the world's leading automotive manufacturers and design studios to look into the future.
Using the theme Vision Gran Turismo, creative teams were to develop concept models, which provide an insight into the further development of the automobile.
As virtual vehicles functioning like real cars, the visionary concepts would be integrated into the new game through online updates.
The scale model's AMG V8 biturbo engine delivers an agile response to even the smallest movements of the accelerator. It develops 436kW and a maximum torque of 800Nm.
With an aluminium space frame body and components in carbon fibre, the Mercedes-Benz AMG Vision Gran Turismo weighs 1385kg.
Intense braking is done by the AMG ceramic high-performance composite braking system.
The AMG sports exhaust system with eight tailpipes integrated into the rear end provides a powerful accompaniment whenever the car accelerates, and ensures an unrivalled motorsports sound experience.
For fans of Gran Turismo 6, the AMG sound specialists have created an exhaust note that authentically celebrates the V8's love of high engine speeds.