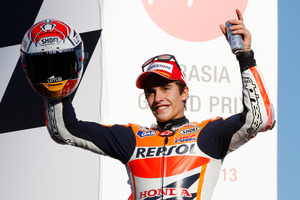 Marc Marquez is aiming to become the youngest MotoGP world champion at the age of 20 as the Spaniard takes a 13-point lead over compatriot and defending champion Jorge Lorenzo into the season's final Grand Prix in Valencia this weekend.
Marquez's lead has been whittled down by a late season charge from Lorenzo, but he will seal the title in his maiden year in MotoGP if he can finish fourth or better at the Ricardo Tormo circuit.
The Honda Repsol rider remains the favourite for the championship, having failed to make the podium only once this year - in Australia last month after being disqualified for failing to pit in time for a mandatory change of tyres.
"I am desperate to get back on the bike," he told Spanish sports daily Marca.
"Obviously we know what is in play in this last Grand Prix of the year but, as always, we will face it as we have in all the other races. We will work hard from Friday and we will do our best."
After a mid-season run of four straight wins that put him in charge in the championship standings, Marquez has won only one of the last six races.
But he is counting on the positive experience of winning the Moto2 race in Valencia last year to see him over the line.
"It has been good to spend a few days at home after three long weeks away. After the fall in Motegi, I have been doing muscular rehabilitation on my neck and now I feel much better.
"We have had good performances in Valencia before. I have always given my all there and I have good memories of last year in Moto2."
-AAP