Denise L'Estrange-Corbet is the director of World clothing and likes a clean, good-looking carJuke has the right design lines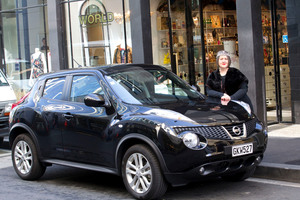 What do you drive?
A Nissan Juke Ti with a 1.6-litre petrol engine. It is the latest model and is black. I chose the Juke as I wanted something different that holds everything I need, shopping, clothes and models but does not resemble or sound like a tractor.
It is so quiet and fits into the smallest of spaces.
How important is the look of a car?
It has to look good, I do not want to drive anything that resembles a bus. So many cars look the same to me, but the Juke definitely stands out. I am always asked what it is when I park. Men particularly are fascinated.
Your first car?
An Austin by British Leyland. The suspension had gone and it drove leaning badly on one side. Today, I am sure it would never pass its WoF. I called it Crab. It was cream, with red leather interior.
Your dream car?
I do not have a dream car per se, I just want a car that gets me to and from where I need to be, in comfort and style. If I had no financial restraints or children, I would buy a rocket, as I am obsessed with air travel and speed, and how you can travel faster than the speed of light in a tin capsule.
Favourite car colour?
Black, of course.
Who taught you to drive?
I was taught to drive by Ken Vokes who ran his own driving school in South London. Ken was a married man in his 50s who smoked relentlessly, and said his smoking increased when he started teaching me.
Luckily the car had dual controls, as sometimes he had to slam his brake on as I was looking elsewhere.
I could not afford too many lessons, so I booked for 12 and passed first time! Pebbles taught herself to drive, honestly, and passed her test the first time also!
Manual or automatic?
I drive an automatic as it is so easy, especially for the amount of traffic lights we have in the Auckland CBD, but I do love manuals.
Most memorable road trip?
When I drove from Marble Arch in London to Honiton in Devon, to interview the famous Honiton lace-makers. I went through Knightsbridge, on to the M4 and down to Devon. It was a perfect winter's day, crisp, sun shining and ponds frozen; so memorable.
How often do you clean your car?
I vacuum and car wash once a week. I am a clean freak, I detest cars with cans and food wrappers strewn over the floor and seats. A car's interior says a lot about a person.
What do you listen to?
I plug in my iPod usually, which is a mishmash of music, but most of the time I am talking on the phone with work, handsfree Bluetooth of course.
What's a great day trip?
A day off with Pebbles in Auckland. The sun is shining, and taking the dogs for a run on the beach, buy an ice cream, sit down, catch up on chat, enjoy the smell of the sea. Our dogs are Mr Big and Jethro and both are chihuahuas and love the beach.
What irritates you most about other drivers?
I find New Zealand drivers infuriating. When the traffic lights change to green, they are so slow off the mark. They wouldn't last five minutes driving in Europe. A lot also seem to have lost the ability to use their indicators.
Would you rather drive in Auckland or take public transport?
I would rather drive, but do take a bus sometimes if I am just going into town.
As told to Donna McIntyre