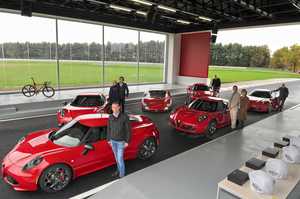 Alfa Romeo has delivered a taste of its new supercar, the 4C, with the first five customers from Switzerland, France, Germany, the Netherlands and Italy taking delivery of their cars at Alfa Romeo's test track in Italy.
Alfa Romeo chief executive Louis Carlo Vignon welcomed the guests to the former Autodelta workshops at Balocco while Alfa Romeo 4C chief designer Alessandro Maccolini gave out secrets of the model's development.
The guests also had the opportunity to get a taste of the performance features of the 4C during a driving session with several expert test drivers on the track where all Alfa Romeo models have been developed, tested and perfected since 1962.
Driver Nicola Larini was also on hand at the ceremony, during which he received a trophy in memory of the DTM title he won in 1993 behind the wheel of the Alfa Romeo 155 V6 Ti.
It is still the only "non-German" car to have won the German touring championship.
Italian driving champion Larini gave the first customers an unparalleled thrill by driving the Alfa Romeo 4C on the Balocco track with them at his side.
The Alfa Romeo 4C "Launch Edition" customers also had the chance to get a close-up look at a 33 Stradale from the Alfa Romeo museum.
The 4C Launch Edition comes in two colours, Alfa Red or the exclusive matt Carrara White.
The car is enhanced with a carbon aerodynamic kit including headlights, spoiler and door mirror covers plus 18in alloys in the front and 19in alloy wheels in the rear.
To accentuate the sports look further, there are front air intakes, brake calipers in a specific colour, racing exhaust system and suspension kit with specific calibration for shock absorbers and rear anti-roll bar.
The two-seater 4C recorded the time of 0 to 100km/h in 4.5 seconds thanks to the 1.75-litre four cylinder turbo petrol engine and its skimpy weight of 900kg.
The 4C Alfa Romeo will be limited to 3500 units and New Zealand pricing and specifications will be announced late next year.