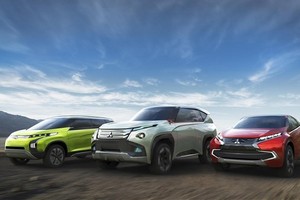 Mitsubishi will use the upcoming Tokyo motor show to unveil three world premiere concept cars that point to a new design direction for the Japanese car company.
The three concepts to be seen at Tokyo have a theme - Mitsubishi's "@earth technology 2" - and point to the direction the company's future development and manufacturing.
The Mitsubishi Concept GC-PHEV 3 is a next-generation full-size SUV with four-wheel drive capability. It is based on a front engine, rear-wheel drive layout plug-in hybrid EV (PHEV) system comprising a 3.0-litre V6 supercharged MIVEC engine mated to an eight-speed automatic transmission.
The Mitsubishi Concept XR-PHEV 5 is a next-generation compact SUV. The new design uses a front engine, front-wheel drive layout PHEV system that is configured with a much smaller 1.1-litre direct-injection turbocharged MIVEC engine, a lightweight, compact and high-efficiency motor with a high-capacity battery.
The Mitsubishi Concept AR 6 is a next-generation compAct MPV. It uses a lightweight mild hybrid system which comprises the smaller 1.1-litre direct-injection turbocharged MIVEC engine.
All three concepts feature Mitsubishi's "e-Assist 7" active safety systems and the advanced "connected car" technology that utilises new information systems. These include a danger detection system which activates safety functions and a early-detection system which urges the driver to seek repairs or maintenance.
Including the three concept models, Mitsubishi will display 17 models at the show. Joining the concepts will be the new eK Space "super height wagon" minicar due for launch in Japan at the start of next year, motorsport vehicles and some production models.
More details will be given when Driven attends the Tokyo motor show.