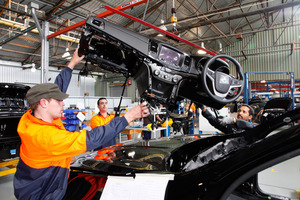 With the recent announcement that Toyota is laying off 100 staff from its manufacturing facility in Altona, Victoria, the focus again on car manufacturing in Australia..
Ford has announced it will stop making cars there and GM Holden is considering its position. Now the Australian Government has commissioned the Productivity Commission to review the car industry, with the report due next year.
"It would be tragic for Australia to lose its car manufacturing industry but there has to be a limit on taxpayers' subsidies," said Deputy Prime Minister Warren Truss.
He says he would like to see car manufacturing continue, along with production of other things such as trains, electrical appliances, processed food and more.
"But there has to be a limit on what the taxpayers are prepared to put into subsidising one particular sector," he told ABC television.
Truss said the Coalition had gone to the election with measures to help the car industry, including abolishing the carbon tax, worth about A$400 ($459) a car, and not proceeding with Labor's changes to fringe benefits tax on new cars, worth A$1.8 billion.
Truss said there were already substantial government subsidies but the industry had to pull its own weight.
A substantial part of the reason for Ford's demise in Australia was unwillingness of its parent to enable Australian cars to be exported in large quantities.
"We won't have the volumes of production to be economically viable unless we are also an exporter," he said.
South Australian independent Senator Nick Xenophon said it was in Australia's national interest for the car industry to survive.
"The level of subsidy for the Australian car industry is still a fraction of what it is in ... countries such as Germany and the US," he told the Ten Network.
Xenophon said there wasn't a level playing field. Under a free-trade agreement, cars made in Thailand come to Australia duty-free. But a A$40,000 Australian-made Ford Territory costs A$100,000 in Thailand.
"If we lose the car industry, we won't lose just the jobs in South Australia, up to 17,000 jobs, but another 30,000-plus jobs in Victoria and other states. And the effect on our economy will be enormous."
-AAP