EcoBoost powertrain is a study in contrasts, writes Jacqui Madelin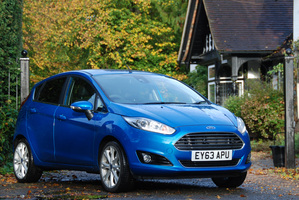 Ford's EcoBoost Fiesta could wreak a revolution on New Zealand roads when it arrives next month - provided enough people try it and pass the message on.
The 1-litre EcoBoost is a Jekyll and Hyde car; at low revs so miserly with fuel it'd make Scrooge look profligate, yet almost hyper at high revs, with a perky joie-de-vivre to its delivery that matches its looks and will keep a keen driver happy.
But it took a few days of UK driving to warm to the car, despite the sort of rock-solid feel we associate with far larger vehicles, and a sufficiently spacious feel to the cabin - assisted in this UK press car by the optional adjustable boot floor - to make it a valid choice for those more usually considering the size bracket above this but not actually carrying four adults and luggage on a regular basis.
It was the celebrated engine that took awhile to get used to. Stir the five-speed manual gearbox to keep the revs high and, yes, it felt engagingly sprightly, and would happily spin the front wheels when pulling away from junctions.
But there was initially no sign of the much-vaunted frugality that is this powerplant's raison d'etre.
I found it when I finally tested its performance in each gear. This three-cylinder one-litre engine's an award-winner that comes in three versions; we'll get the top-power turbo variant, with 92kW at 6000rpm and a truly impressive 170Nm from 1400-4500rpm.
Keep the revs up around 6000 and you can fling the little car around the scenery, the fairly conventional strut front and torsion beam rear suspension equation well capable of keeping the little car planted.
It helps that it's so light, of course, this car tipping the scales at just 1106kg, and the way it responded to the throttle round bends suggested it'll be more fun on New Zealand's bendy back roads than anything this fuel-frugal has a right to feel.
Admittedly my daily beat came courtesy one of the UK's more crowded regions and, with the car often loaded to the gunwales with household chattels, not the ideal combination for flinging the car about - or setting fuel records.
But at the speeds I reached, it felt predictable and agile enough to wish for quieter roads and a few more bends, and look forward to an eventual test drive in New Zealand conditions.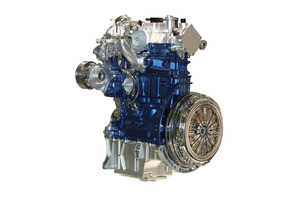 But where this unit comes into its own is at or approaching 1400rpm, where your brain is telling you the revs are too low to make sense, but the car is already pulling strongly enough while apparently running on fumes - regularly cruising at 2.8l/100km at 70 to 90km/h or thereabouts, and happily sipping at 3.5l/100km or less at 100km/h, depending on gradient.
That means it'll be super-frugal in almost any New Zealand conditions for the owner of a manual transmission car who's happy to get anally retentive about gear-changing.
That it wasn't in the UK conditions I drove in says more about how such a keen little car encourages you to rev it than anything else, and about how fuel use rises with speed, for motorways are limited to 113km/h in the UK and traffic police appear to tolerate the 125km/h at which much of the fast lane travels.
But at that speed this Fiesta forgets frugality and concentrates on the "perky" part of its drive equation, the result a 6.9l/100km overall thirst when I returned the car - less than when I collected it, despite my largely high-speed commute.
I reckon a relaxed driver could approach close enough to the 4.9l/100km (manual) claim to surprise anyone also familiar with this motor's power figures, and its alert feel at higher revs.
Specification will be reasonably generous when the car lands here, with 16-inch alloy wheels, "follow me home" headlights, cruise control, and sports seats joining seven airbags, ABS and stability control - the car has a five-star crash-test rating. But according to info received so far, we won't see some of the features on my UK car, like those optional 17-inch wheels, the rear view camera, active city-stop and the rear park distance sensor that proved so useful when trying to find a park in congested UK cities.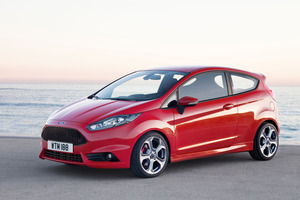 The EcoBoost Sport is pitched to sell in $27,340 manual and $28,840 six-speed auto formats when it arrives, a nudge above the less powerful 1.5-litre Trend and a decent step below the much more powerful 1.6-litre ST, both of which have already landed.