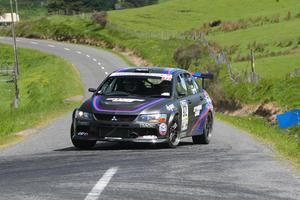 With Allcomers 4WD class leader Jason Gill and co-driver Mark Robinson comfortably in front at the head of the field the focus as this year's Targa New Zealand event entered its third day today was on the four-way battle for stage honours in the Metalman Classic 2WD class.
Though Gill and Robinson were quickest in only two of today's six stages the Gull-backed Mitsubishi Evo pair actually extended their overall lead from nine to just over 13 minutes as fellow Mitsubishi-mounted rivals Glenn Inkster and Spencer Winn, and Todd and Rhys Bawden, had problems of one sort or another.
Both pairings had pace, each claiming two stage wins of their own, however the Bawdens are not in contention for overall honours because of the time they lost on the first day, and Inkster and Winn were slowed by a blown head gasket today.
"We're definitely driving with a safety margin, but in saying that," said Gill, "we're not mucking around either."
After wind and driving rain early in Taranaki on Friday today's six stages from Palmerston North to Havelock North were held in cool but sunny weather conditons on roads which were open, fast and most importantly dry.
Second overall for a second day in a row was the Mitsubishi Evo of David Rogers and Aidan Kelly with Inkster and Winn moving up a place to third despite their engine cooling issues and Targa stalwarts Chris Lane and Andrew Oakley driving the event of their lives in Lane's Audi RS4 four-door fourth.
Also extending their lead - in this case in the Instra.com Modern 2WD class - were Dunedin duo Martin Dippie and Jona Grant in their Porsche GT3 RS. Though they conceded one stage win to class newcomer and young gun Steven Kirk-Burnnand and his co-driver Elliott today, Dippie and Grant still mananaged to extend their overall event advantage over the second placed BMW M3 of Gary Murphy and James Bell by a further two minutes.
Australian BMW M3 pair Robert Darrington and David Abetz were in second place after the second day but dropped to fourth today after an off in the second stage.
Where the competition was closest, meanwhile, was in the Metalman Classic 2WD class, despite the withdrawal after just one stage, of leaders Mark and Adrian Kirk-Burnnand after their BMW M3 blew a head gasket.
After chasing his Wellington-based nephew Mark and Australian cousin Adrian home on Friday, Auckland-based Barry Kirk-Burnnand and his co-driver Dave O'Carroll inherited the lead - albeit not the way he wanted to.
"Yes it's through other people's misfortunes, though to be fair," the 19-year event veteran said, "it's by no means over yet. We've got a real battle on our hands with Angus Howden and Bevan Claridge."
Claridge and his motorcycle champion co-driver Jason Easton, have been the big improvers in the Metalman Classic this year, the Holden Commodore V8 pair claiming their first stage win this afternoon to end the day just under a minute behind Kirk-Burnnand and O'Carroll.
Also winning stages today, though not in overall class contention, were Wanganui pair Peter Cullen and Craig Strachan in their exotic Ford V8-powered De Tomaso Pantera, back in the event after breaking half-shafts on the second day.
"The big fast stages are just built for the car," said Cullen, who won the day's first stage - Mangatainoka - from Claridge and Easton, the Howden brothers and Barry Kirk-Burnnand and Dave O'Carroll, as well as the popular fast flowing final down Middle Road to Havelock North from the Howdens, the Kirk-Burnnand/O'Carroll BMW M3 and Claridge and Easton in their V8 Commodore.
Back in the event, meanwhile, after finishing only two stages on the event's first day due to a broken camshaft was the bright orange Ford Anglia of Pukekohe husband and wife Dennis and Suzannah Dowling.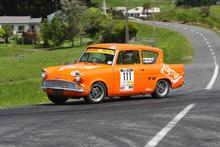 "We were absolutely devastated," said Suzannah after the popular little classic ground to a halt on Auckland's Southern Motorway on the way to the third stage on Thursday morning.
"To be two stages in and your engine blows up on you, we thought that that was it."
In typical Targa fashion, however, a team effort - involving local Anglia guru Clyde Walters and Grady Homewood from Drury-based business Hi-tech Motorsport - saw a replacement engine located and fitted and the car dispatched to Dannevirke overnight.
"We kept running into all these problems but we decided that we were just going to make it happen," said Dennis. "We robbed all the bits off my motor, rebuilt a new oil pump out of two to make it work, did a hundred and one other things to get it all to work and at two o'clock this morning we finally got it fired up and away she went."
The 2013 Targa New Zealand event continues tomorrow with stages five more road stages and a final fling round Taupo's Ricoh Motorsport Park.
The event is organised with the support of sponsors Federal motorsport tyres, Instra Corporation, Metalman, NZ Classic Car magazine, TeamTalk, TrackIt and VTNZ.