The mini-SUV concept has come far since Daihatsu's original Terios as Peugeot and Holden show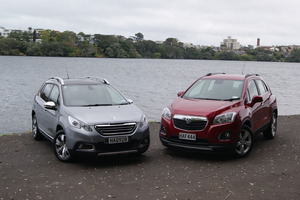 Supermini-sized crossovers are not an entirely new idea: you might remember the Daihatsu Terios. But with the "soft roader" genre taking over virtually every part of the new-car market, small crossovers are tipped to be the next big thing.
Some makers are getting in early: Peugeot for one, which seems determined to have a crossover in every segment. It already has the 508 RXH, 3008 and 4008. Now we welcome the 2008, a fashion-forward wagon that's small in dimension but big on attitude.
How often can we realistically compare a Peugeot with a Holden? This time around it's a near-perfect fit, with General Motors' Korean division serving up the Trax.
Times have changed since the Terios was in vogue. Crossovers are now mainstream, so while buyers want that faux-off-road look and high seating position, they aren't prepared to suffer any compromise in performance, on-road handling or comfort. That's the challenge for small models like these.
Both 2008 and Trax are based on familiar supermini platforms: the 208 and Barina respectively. Both have raised ride height (as is the fashion) but neither make any pretence towards off-roading, with four-cylinder engines driving the front wheels only.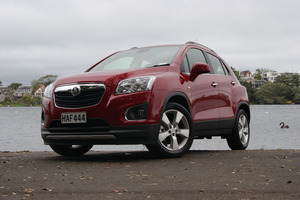 In fact, the Holden has hardly any clearance at the front: check out the bib under the bumper, which rides lower than some sports cars. The Trax is something of a bargain, with prices starting at $32,990. The more generously equipped LTZ model featured here lists at $35,490.
The Peugeot 2008 Active opens at $31,990 and that model has everything you'd want, although for $2000 more there's a flagship Allure version (shown here) that adds more chrome, different upholstery and a little extra equipment.
Trax has something of a powertrain advantage, with a 1.8-litre four making 103kW/175Nm and a six-speed automatic gearbox.
The 2008 is powered by an 88kW/160Nm 1.6-litre with a four-speed automatic.
In truth, both cars are held back by their powertrains. With the Trax, it's the engine, which is an updated version of the very familiar and very ordinary four that powers entry-level versions of the Cruze. It has the numbers on-paper, but is sluggish and uncouth on the road. Shame, because there's a good six-speed gearbox at work.
And the 2008? The dreaded four-speed automatic is the weak point. The French continue to punish us two-pedal people with this jerky and indecisive effort. Shame, because there's a good little engine (same one you'll find in a Mini) at work.
Neither is a disaster. But you can't escape the feeling that the real-world performance of both could easily be so much more satisfying.
Handling is a much more satisfying topic. The Trax has a surprising amount of grip from its 18-inch rubber and while I'm always skeptical about Holden's claims that it has calibrated its Korean models' steering and suspension for local conditions, this car is very surefooted on Kiwi roads.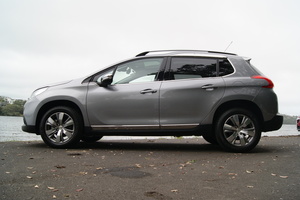 The 2008 is better still, though. The ride on its 16in rims is smoother, yet it doesn't come at the cost of sporty handling. While the Trax is effective, the 2008 is entertaining, with lively steering and a chassis that telegraphs changes in attitude well.
You can't argue with the amount of equipment Trax offers for the money. Both cars have manual air conditioning, cruise control and colourful seven-inch touch screens for their multimedia functions.
But the Trax also boasts leather-like upholstery (never too sure what it is with Korean cars ...), reversing radar with camera and satellite navigation through a smartphone-linked application called BringGo. Very clever.
The 2008 can't match that: the more expensive Allure has parking radar but no camera, and fully integrated satellite navigation is $750 extra on both models.
The Allure does have climate air, a lot of extra chrome, high-quality upholstery and a glass roof.
Where the 2008 does stand out is interior style and quality. The odd driving position is polarising - tiny steering wheel set low, instruments positioned over the top of the rim - but the textures are truly swish and there are plenty of soft-touch plastics. It really feels like a premium car inside.
The Trax, while stylish looking, feels cheap and nasty in comparison. The tones are dour and the materials are all rock-hard.
If your aim in buying a small crossover is to sit as high as possible, you'll like the Trax.
It's 150mm taller than the 2008 - in more of a traditional SUV mould than the station wagon-like proportions of the Peugeot.
Versatility is probably not the main drawcard for urban cars like these, but both present useful passenger and load-carrying platforms.
Trax is a little longer than 2008 but their wheelbases are almost identical (17mm between the two), so rear-seat space is similar. The Peugeot has much better seats, though: better shape and position, despite the lower ride height.
Boots are also near-identical: 360 litres for the Trax versus 356 litres for the 2008. Both have 60/40 split rear seats for large items.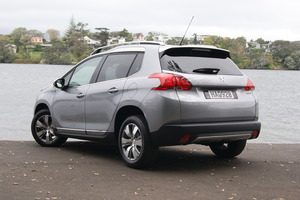 The bottom line
You cannot argue with the Trax's value for money, equipment or muscular styling: it looks the part. But the 2008 does everything with more flair and it has a genuinely premium feel, dodgy gearbox or not. The Peugeot is pretty, and a pretty appealing urban crossover: it wins.