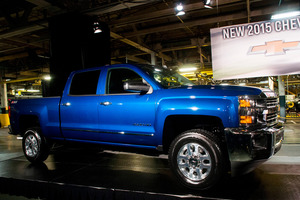 General Motors' third-quarter net income fell 53 per cent compared with a year ago, as one-time expenses masked a strong performance in North America and a narrowed loss in Europe.
The company earned US$698 million ($844 million) in the quarter, or US45 cents per share. That compares with US$1.48 billion, or US89c per share, a year ago. But without US$900 million in one-time items, GM earned US$1.7 billion, or US96c per share. That beat Wall Street's expectations. Analysts polled by FactSet expected US94c per share.
Revenue rose 4 per cent to US$39 billion, just short of Wall Street's estimate of US$39.2 billion.
GM shares rose US87c to US$36.93 on Wednesday.
GM's performance in North America was especially strong, with pretax earnings up 28 per cent to US$2.2 billion on solid pickup truck sales and better pricing. GM rolled out updated versions of its Chevrolet Silverado and GMC Sierra pickups in the spring.
The company's profit margin in North America was the highest in two years at 9.3 per cent.
"The new trucks are doing great in the marketplace," chief financial officer Dan Ammann said.
"We're commanding good pricing. We're controlling costs."
GM's average sales price rose 1 per cent in the US during the quarter to US$34,566, according to Kelley Blue Book.
Sales of the Silverado, its top-selling vehicle, were up 14 per cent over last year's third quarter. Prices for the pickup rose by 2 per cent to an average of US$36,487.
In Europe, GM cut its loss by more than half to US$214 million. Revenue there rose year-over-year for the first time in two years. Ammann said the company cut US$400 million in costs during the quarter, and updated versions of its Opel Mokka small crossover SUV, Adam subcompact and Insignia midsize car sold well.
GM's international operations, including Asia, saw pretax earnings fall 61 per cent to US$299 million due to struggles in India, Australia and Southeast Asia. The unit would have lost more than US$100 million without US$400 million in earnings from China.
"We continue to have challenges in some markets," Ammann said. Some are due to industrywide issues such as competitors lowering prices, but some are execution problems on GM's part.
South American profit rose 79 per cent to US$284 million. The company's financial unit saw a 20 per cent rise in pretax earnings to US$239 million.
One-time items included US$800 million to buy preferred stock from a health care trust for union retirees and a US$48 million impairment charge in South Korea. GM Holden's Australasia boss, Mike Devereux, has been appointed GM CIO vice-president of sales, marketing and aftersales, based in Shanghai, but will continue to manage the GM Holden team and that region's operations until the end of the year.
-AP