Richard Lindroos is race director for the Auckland marathon tomorrow and he's powering up to go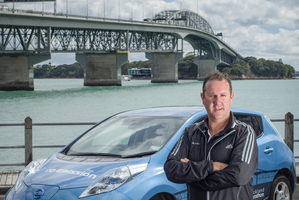 What do you drive?
A Nissan Leaf, it's the adidas Auckland marathon lead vehicle so that's why it has the distinctive paint job. It's cool, attractive, not boring. It's fully electric, no petrol. The Leaf is great around town, zippy and performs better than a petrol car the same size - and it's easy to park.
Guess no one can accuse you of being a petrolhead. Tell us about the ins and outs of an electric car ...
It's plugged in all day at work when it's not out, [so it's] simple to charge. Around town we probably get about 120km so range isn't an issue.
Do you have to change your mind set when you drive an electric car?
Not really. It drives like any other car of its size; the only difference being the controls - no gears, just forward and reverse.
Part of the reason for choosing this car is so that when it leads the marathon tomorrow, you won't be emitting fumes on the runners?
Yes, no tailpipe and zero emissions so it's the perfect vehicle for the runners to run behind.
What is the main consideration if you are buying a car?
It depends on whether it is for work or for personal use. For us being in the running events business, the Leaf is the perfect around-town and lead vehicle for the marathon. We also have to transport all our equipment to events so the X-trail we also have has been great and that new Nissan Pathfinder looks the goods.
Your first car?
A Mini 1000.
Your dream car?
I don't really have a dream car but the Maserati Ghibli in black looks like it would get me from A to B in good time.
Favourite car colour?
Black.
Who taught you to drive?
My dad in Christchurch; I was 16. He was a very good teacher. I have three children but it will be a few years before they can drive, thank God.
Manual or automatic?
Automatic, because I spend most of my time in Auckland traffic.
How often do you clean your car?
My car is cleaned every couple of weeks. Sometimes I clean it but mostly it gets cleaned for me.
Your most memorable road trip?
That would have to be Central Otago because of the great roads and great scenery. I was last there about two years ago. It's a lovely part of the world, a great place to drive. I take the family and we just relax.
What do you listen to in your car?
Radio.
What's your favourite day trip out of Auckland?
Anywhere that takes me to the coast.
Would you rather drive in Auckland or take public transport?
I would rather drive, especially in the Leaf which is cheap to run as well as being greener than every other option.
What irritates you the most about other drivers?
Slow driving in the fast lane. Not indicating; that annoys the hell out of me. And people using mobile phones, not hands-free, that's really dodgy.
Does what people drive influence how you perceive them?
No. It's more than just about the car.
Who else is allowed to drive your car?
The Mrs.
Do you have a special number plate?
LEAF03.
As told to Donna McIntyre