Kiwi rally ace makes the most of chance to drive a top WRC car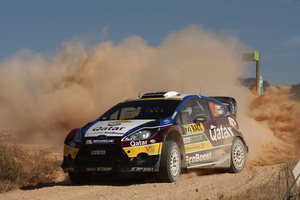 Former production world rally champion Hayden Paddon and co-driver John Kennard made the most of their opportunity in a full-blown World Rally Championship car at Rally Spain.
The pair were handed the keys to an M-Sport-prepared Ford Fiesta RS in the Qatar colours, but had very little time in the car before the rally.
As a result, they tested only on tarmac, despite the Spanish rally being a mixed event with two days on tarmac and the final day on gravel.
Paddon successfully negotiated the first day of the rally held in the dark and finished inside the top 10.
"I found it hard to get a sense of the speed, being a night stage, but it's great," said Paddon.
Day two was again on tarmac and, despite a small spin that dropped the pair to ninth, Paddon was starting to get the hang of the new car.
"With every stage we complete, the more comfortable we continue to get," he said.
"We're continually learning about the set-up of the car that works best."
Paddon and Kennard started the final day having set the eighth-quickest stage times on five of Saturday's six tarmac.
But with six stages of mainly gravel roads, the Kiwis knew they had a tough day ahead. The early morning gravel stages were made more challenging for all competitors by dust hanging in the still morning, making visibility difficult in the bright sunlight.
"Moving to my favoured surface of gravel, I had high hopes to be competitive," Paddon said.
"But, as we had never driven the car on gravel before, it was going to be a tall ask - a fact we found out on the first corner of the first stage.
"The Ford Fiesta RS WRC is a fantastic car and really enjoyable. However, in gravel spec it felt different to anything I have driven before. The huge suspension travel meant the car was moving around a lot and I found it difficult to build any confidence and have a good feel for the car. A bit of a trying day really."
Paddon's stage times - varying from 11th to eighth-quickest - kept him comfortably in ninth overall, but he wasn't in a position to challenge experienced WRC campaigner Martin Prokop in a similar Fiesta running in front of him.
But when Citroen's Dani Sordo fell over, Paddon was able to move up the leader board.
"During midday service, we made many changes to the car to help me get more of a feeling," he said.
"These did improve things for the afternoon as we closed the gap on the frontrunners, although the car still felt foreign. Other than losing the brakes on the last stage, it was a relatively clean day for us."
The 26-year-old from Geraldine is reviewing his performance, keen to improve and be ready for any future opportunities in the FIA World Rally Championship.
"Of course it was good to get to the finish as that was obviously one of our goals, but this rally has all been about progression, and we have learned a lot from it," he said.
"We improved on tarmac from 1.5 seconds per kilometre to 0.6 seconds per kilometre behind the stage winner, and on gravel we improved from 2.6 seconds per kilometre to 1.1 seconds per kilometre. And we know exactly where the time loss is, which comes down to seat time and testing to overcome.
"It has been an amazing experience to be involved with M-Sport and we have enjoyed every minute of it."