Holy hell, this bike could get you into trouble in too many ways, writes Jacqui Madelin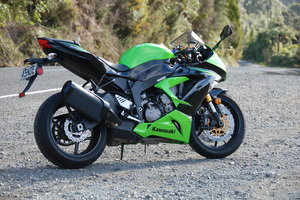 As I puttered away from Kawasaki headquarters, I was initially disappointed by the new ZX636R. Anything this easy to ride at 50km/h can't really be called a sports bike, surely?
And so I wombled towards the motorway with half a brain on the traffic and the rest planning my working day, hit the on-ramp and opened her up.
And, holy hell, talk about instant whiplash - this Kwaka launches from zero to hello officer with an alacrity that must be felt to be believed, hitting 100km/h at 12,000rpm in first gear and a nudge above the 71Nm torque peak, rocketing toward 101kW and 13,500rpm, already well over the open-road limit. In first gear.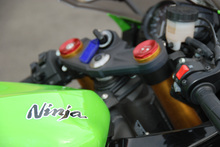 A 1.8-litre Corolla fields just 2kW more and weighs 1.2 tons to this bike's 192kg, which explains its phenomenal acceleration. Kawasaki achieved it via a raft of changes too comprehensive to detail here, the most pertinent being a longer piston stroke to lift capacity from 599cc to 636 and boost power at low- to mid-range revs. The intake and exhaust ports also got attention, as did the con rods and fuel injectors, but what I most liked was the new slipper clutch, designed to deliver a lighter lever feel at road-riding revs, and prevent that rear wheel locking and skipping during a rapid descent through the gears.
There's a shorter first gear to help you pull away, too - the more tractable delivery, that clutch and the lower first all appreciated by those who use their bike every day.
But what I noticed most was how well this performance bike copes with real-world B-road surfaces. There haven't been many changes to the chassis but the front's a bit lower, with a steeper caster angle, the focus being better bendy-road handling. I left the damping, preload and compression suspension adjustments well alone - there's a lot you can do if you're an expert, but I'm not - so I retained the average setting, which delivers impressive compliance when you consider this bike's true focus is as a track weapon. Mind you, Kawasaki handed it over with "Low" power mode selected to cut back 20 per cent of the available urge. Bugger that, even this rather ordinary rider wants to get the full monty and, after a bit of familiarisation, I toggled the switch on the left handlebar to access Full Power, then tuned the traction control which monitors slip at the wheels and engine parameters to modulate power if it anticipates wheelspin.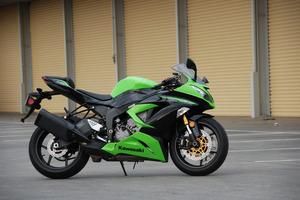 It keeps tabs on you every five milliseconds, able to tell if you're doing a power wheelie or about to spit over backwards, and working to suit. But I'm confident I can control my throttle wrist and ignored the safest mode to let her rip, increasingly confident in a bike designed to feel like an extension of your body, dropping into bends with outside arm, knee and thigh in full contact to keep her stable, the bike feeling rock solid and happy at almost any speed, the in-line four screaming into the high notes as we played in first and second gear, frustrated at the speed limitations that won't let you access the 16,000rpm red line without risking arrest. Briefly sated, I snicked up a gear or two for a more relaxed approach, ever more impressed by how well Kawasaki has tuned such an extreme bike to double as an everyday runabout.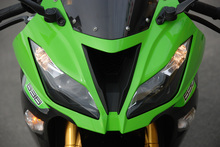 Not that it's really designed for every day - Kawasaki even penned a triangular muffler profile to improve lean angles to a degree only achievable with a demon rider on a track - but the fact it can tackle Monday's commute almost as easily as Sunday's podium makes this a deeply impressive bit of kit for $16,995. And all the more so given it delivers a supercar-busting performance at a used-Corolla price.