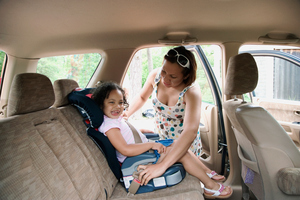 Waiting at traffic lights this week, I looked in the rear-view mirror of my test car at the large SUV waiting behind me.
Sitting in the front passenger seat was a girl aged about 5. She leaned back, waved her arm around to annoy her older sister in the back row before squirming in her seat, easily slipping out from the seatbelt.
She was so short she could barely see out the front window.
Although my kids are now teens, I'd had those years of battling to buckle tots into car seats and maintaining the peace between siblings in the rear row.
So as a mum, I wanted to get out of my car and politely suggest to the woman driver that the little girl should not only be sitting in the back seat but also, due to her slight frame, she should be in a booster seat.
But from yesterday my suggestion will be redundant as it's now law for children up to the age of 7 to be in an approved child restraint.
And before the whingeing begins (and that's just the 6-year-olds), the law in Britain is that children up to the age of 12 or shorter than 135cm have to be in a car seat.
Personally, I'd like to have seen the age in New Zealand extended to 12, too.
And I'm not the only mum who thinks this. Auckland model agency owner and Audi NZ ambassador Sara Tetro told me in an interview she was an advocate for keeping children in booster seats until they reached 12, or more than 148cm in height.
It's not as if Sara or I wanted to embarrass our children during school drop-offs and pick-ups. Instead it's a simple fact that our kids are safer when in approved car restraints.
Sara pointed me to a study by Starship hospital's doctors that showed children were taken out of their car restraints "far too soon" and should be in booster seats until aged 12.
The study showed 20 kids a year died as passengers in cars and "15 child passengers each year are admitted seriously ill to the Intensive Care unit at the Starship".
Being safely restrained in an appropriate car seat can go a long way to preventing that.
Sure, some fancy car restraints can be pricey but Plunket has a rental scheme and stores like the Warehouse have two-in-one booster seats on sale from $69.99.
And really, what is the price of keeping our kids safe in the car?
What do you think? Let us know below or on Facebook