A beaut blat in a wee Morgan would lift the roof off - if it had one, writes Jacqui Madelin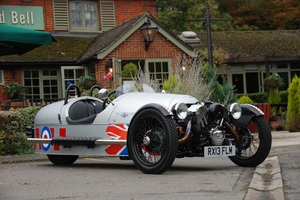 Morgan three-wheelers go back a long way for my family - my grandparents went on honeymoon in 1920s UK in one, and an uncle owns a 1926 example.
So while in the UK last week, I leaped at the chance to go for a ride in today's version, launched in 2011 with a 2-litre S&S engine from the American V-twin specialist.
This Morgan is owned by Andy Fellows and Susan Kay, who also have a four-wheeled Morgan, 1972 Rolls-Royce Shadow and a Land Rover. They're as chatty and approachable as you must be when driving anything this eye-catching.
"We've done about 1500 miles [2414km] in total, not far," Andy says, using it as "a bar-hopper or back-street blaster rather than a tourer".
You can throw it around a bit and don't have to speed to have fun.
"At 7pm in summer, with the roads empty, it's blatting away like a good un."
Apparently, everyone gives you the thumbs up.
"Anyone with petrol in their veins, but to own one you have to be an enthusiast and a bit mad."
The couple met the man who built their car at the Malvern factory - the engine and chassis-building are outsourced and they're mated elsewhere, before returning to Malvern for the traditional ash-wood frame and aluminium panels.
Owning a car built the old way isn't all good news.
Rusting bolts prompted a complaint, and they were handed a bag with a complete replacement set - though it's still not perfect.
"But that's part of the experience, you get involved with it," says Andy.
"If you want the complete experience, complete with puddles, you buy an old one and don't know if you'll get there. This gives the classic experience, but you do expect to get there thanks to modern reliability."
Given my uncle's conveyance has only two gears and you have to hold your tongue right to find second, the modern example's five-speed Mazda MX-5 (plus reverse) transmission perfectly illustrates his point.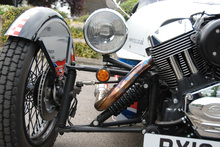 Fortunately, Andy and my uncle have motorcycle licences, for that's now required to drive a three-wheeler in the UK and Morgans, at over 450kg, are taxed as motorcycles too, yet are classified as cars and receive their MoT test (the British equivalent of our WOF) as a car.
Quirks? No roof, door, or windscreen wipers and scant luggage capacity. There's little protection from the hot exhausts either - though given there's no heater, that's a bonus come winter when you'll need warm, waterproof over-trousers, but not boots as the pedals are quite crowded. They do have four-step adjustment, vital given the seats are bolted down.
Squeezed aboard, I discover being short has its advantages, for while Andy collects every windborne bug I sit just below the airstream, impressed by the rear double shock and swinging arm, front telescopic strut suspension's compliance and enjoying the engine vibe through the floorboards, something you'll feel on a V-twin bike but rarely a car.
Less enjoyable is that whine from the bevel box out back once the engine's warmed.
But you feel almost as connected to the road in this thing as you do on a bike, without the balance issues and with a bit more wind protection. Andy says greasy roads and potholes can be a problem - with a wheel on each side and in the middle, it's hard to avoid them - but he enjoys hustling the wee Morgan through Cotswold bends.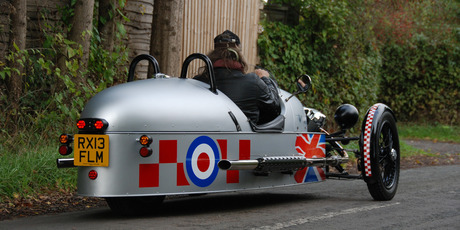 At only 508kg, the 86kW and 140Nm deliver brisk performance while the twin front disc and rear drum brakes are up to the job, although you wouldn't want to spend all day in it, Andy says. Not without earplugs anyway.
A Morgan three-wheeler costs about £33,000 ($63,000) or more if you tick the options boxes, largely restricted to paint, and whether you want polished metal finish or paint to your engine, exhaust heat shield and roll hoops.
"We've done very lurid colours," John says, "including a bright BMW blue with orange interior for the president of Kazakhstan."
I'll have British racing green, thanks. This Morgan would fit right in on the bendy roads out to Piha ...