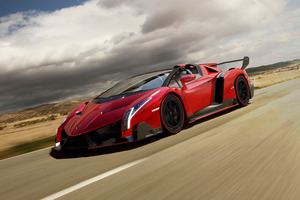 Insane is an understatement. Lamborghini is continuing its line of automotive madness with the unveiling of the Veneno Roadster.
The Veneno hardtop was unveiled at the Geneva motor Show in March, however all three limited edition cars were pre-sold.
Lamborghini has confirmed another nine examples will be built, minus the roof. The Roadster still retains the love or hate styling, the competition-derived aerodynamics and same use of carbon fibre as the hardtop. The immediate difference is the lack of a roof and we mean that literally - there is no roof at all.
The price is, of course, beyond the reach of mere mortals, with the roadster retailing at $5.3 million, giving it a $700,000 premium over the hardtop.