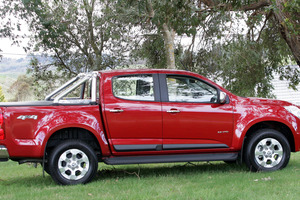 Holden is tooling up to take a bigger slice of hard-fought commercial battleground with a host of upgrades to its Colorado truck.
It's a market segment that has become increasingly difficult to compete in, with customer comfort demands increasing year-on-year and manufacturers pushing hard to gain sales.
Holden NZ boss Jeff Murray admits that when the Colorado launched 14 months ago it would have fared better given a higher spec level, but he remains confident this update will help to level the commercial playing field.
Colorado is already one of the company's star players, but given tough competition from the likes of Ford's Ranger and the Toyota Hilux, spec is king.
The refreshed Colorado ups the ante with a jump in power and torque from the 2.8L diesel engine to 147kW and 440Nm for the new six-speed manual version and 500Nm for the six-speed auto.
Hill start, trailer sway control and downhill descent control have all been added to the utility belt, with more new tech and safety goodies thrown into the mix.
Core use of commercials like Colorado - in both its ute and the Colorado 7 SUV guise - has changed in recent years, with truck owners' needs for the vehicles increasing beyond worksite requirements.
"You look at the top 10 in this segment and things are changing," says Murray. "It proves that the people who are buying commercials are using them for much more than just carrying bags of cement around."
As a reflection of this, rear parking sensors have been added to the LX, LT and LTZ pick-ups, with a rear vision camera now standard on the latter. The camera will be a $500 add on for other versions.
Front-seat side impact airbags are now on all models save the basic bench seat DX version, and there's now a standard storage box fitted to the cargo area of the Colorado 7.
A 7-inch touch-screen infotainment upgrade will help Holden haul in buyers whose use for the Colorado crosses into the family car zone, with General Motors' well-regarded MyLink system bringing smartphone-linked features like Pandora, Stitcher and Siri Eyes Free.
Pricing for the upgraded MY2014 Colorado does not change from the current list, ranging from $44,490 to high-spec LTZ versions at $61,990.
Asked if the upgrade could help Colorado reel in Nissan's ageing Navara, currently in third spot behind Ranger and Hilux, Murray didn't hesitate in throwing down the gauntlet.
"We're very confident that this will help us overtake Navara."