Bamber faces wait to hear if he wins scholarship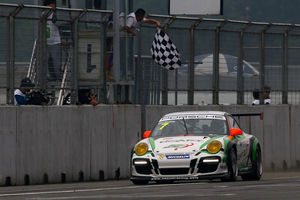 After a successful time in Asia contesting the region's Porsche Carrera Cup, New Zealand sports car driver Earl Bamber was rewarded with a chance to showcase his talents at the Porsche Motorsport International Cup Scholarship.
Eight spots were awarded to the best drivers in each of the seven regional Porsche one-make series around the world and Bamber booked his slot by leading the Asia Carrera championship with one round to go.
Porsche Motorsport had eight drivers from seven international one-make cups compete against each other in the new Porsche 911 GT3 Cup at the Motorsportarena track in Oschersleben, Germany, over two days. To be eligible for the shoot-out, drivers had to be under 26 years of age and show attributes other than just being able to go fast.
Bamber represented Porsche Carrera Cup Asia with Maxime Jousse from France, Alberto Cerqui (Italy), Ryo Ogawa (Japan), Daniel Lloyd and Jonas Gelzinis (Great Britain), Johan Kristoffersson (Scandinavia) and Christofer Berckhan (Central Europe).
"We've all done the two days in Germany and are now waiting to find out who gets the chance to race Supercup next year," said Bamber.
"We were using the new 911 Cup car that will be used for all the Carrera Cup championships around the world next year.
"The car is absolutely beautiful and fantastic to drive.
"It was a huge thing to get picked to do the test and a real privilege to work with Porsche factory engineers as well.
"That was a unique experience because they ran it as a Porsche Motorsport event.
"It was great to get there and learn from those guys and pick up so many tricks and stuff like that. We're waiting to hear in the next week or so to find out who gets the scholarship."
Porsche Mobil 1 Supercup manager Jonas Krauss said: "All eight candidates have shown just how competitive Porsche's international one-make cup series are.
"All of the drivers did a great job at the wheel of the Porsche 911 GT3 Cup and this doesn't make our decision over the next few days easy. We now have to evaluate the huge amount of data and select the candidates with the most potential. But one thing is certain - with the winner of the Porsche Motorsport International Cup Scholarship, the Supercup will have yet another top pilot in the coming season."
Bamber's Ford affair
A well as punting a Porsche around various racetracks in the Asia region, Bamber occasionally drives a Ford GT3 car in the Asia GT championship. As the series is a pro-am affair, Bamber is the professional paired with a "gentleman" driver, in this case Samson Chan.
What made last weekend's round in China even more interesting was that two-time world Formula One champion Mika Hakkinen was racing in an Erebus AMG GT3 Mercedes. Never one to shirk a challenge, Bamber was not going to be overawed by having to go head-to-end with F1 royalty.
"It was quite funny how the reports came out that the Erebus team wasn't leading until the second driver was in the car, well that's because I was leading Hakkinen during all my stint," said Bamber.
"After the pit stop, we had a seven-second lead but my co-driver wasn't as quick as Hakkinen's, so we finished second.
"It was quite a good race, especially with Mika. The best thing, though, was getting a call on the radio saying 'yeah, your pace is quite good and you're pulling away from Hakkinen and keep going'.
"We had a chat on the podium after the race and he's a really nice guy - very down to earth."

The V8 SuperTourers are back at Hampton Downs for round six:
Saturday
11:05 2K Cup - Race One
12:45 BNT V8ST driver signing rear of pit garages
13:23 UDC V8 Utes - Race One
13:40 BNT V8 SuperTourers (co-driver) qualifying
14:05 Rotary - Vtec Showdown - Race One
14:45 BNT V8 SuperTourers (main driver qualifying
15:10 Suzuki Swift Sport Cup - Race One
15:30 Cogent V8 Challenge Cup - Race One
16:05 BNT V8 SuperTourers - Race One
17:10 NZ Sports Cars - Race One
17:30 Rotary - Vtec Showdown
Race Two
17:50 2K Cup - Race Two

Sunday
09:25 Winger Suzuki Swift Sport Cup - Race Two
10:00 NZ Sports Cars - Race Two
10:20 Cogent V8 Challenge Cup - Race Two
11:00 BNT V8 SuperTourers - Race Two
12:10 UDC V8 Utes - Race Three
13:00 NZ Sports Cars - Race Three
13:20 Winger Suzuki Swift Sport Cup - Race Three
13:40 Cogent V8 Challenge Cup - Race Three
14:00 UDC V8 Utes - Race Three
15:00 BNT V8SuperTourers - Race Three (56 laps)