Endurance racers raring to go for SuperTourers, says Eric Thompson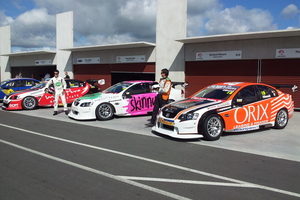 Round two of the V8 SuperTourers series within a series roars into action this weekend at the north Waikato Hampton Downs circuit.
Round one a few weeks ago saw a number of mechanical issues raise their ugly heads but the teams are convinced the gearbox and related issues have been solved.
The three-round endurance component of the overall Hankook Super Series will see several Australian V8 Supercar drivers return and some will be hot from last weekend's yahoo around Mount Panorama. There were also a number of Kiwi drivers racing in the Bathurst 1000 who will be suiting up to resume battle in the local series.
Earlier in the season, four-time Bathurst winner Greg Murphy took out the sprint title from local driver Ant Pedersen and Australia-based Tekno Autosport pilot Shane van Gisbergen.
He won the opening endurance round with a series of solid finishes to sit third on the overall series points table behind Pedersen and Murphy, who retained the series lead despite a DNF.
There are a couple of bits of good news for a long-time combatant and supporter of New Zealand V8 racing. Paul Manuell, who's part of M3 Racing with Murphy and Richard Moore, has just re-signed Orix as his car's sponsor.
Orix Leasing and Finance, long-time supporter of Manuell, recently announced their continued backing for the 2014 V8 SuperTourer season.
Manuell will again be driving a Holden Commodore-skinned car prepared by M3 Motorsport, who also prepare the cars of Murphy and Moore. M3 have established themselves as serious championship contenders with all three cars inside the top 10 - Murphy first, Moore in fifth and Manuell ninth.
"Orix remain extremely pleased with the exposure and resultant business benefits we receive from our involvement within the sport and we are delighted to have the opportunity to continue our association with Paul and our family of loyal partners," said Orix New Zealand operations manager Glenn Middleton.
"Orix will continue to deliver our familiar family-focused hospitality product which we consider to be as important as our on-track performances. Hospitality provides us with a unique platform to thank our existing clients throughout New Zealand and also network new opportunities."
The pair have been linked for several years and Orix is one of New Zealand's long-serving sponsors of the sport.
"The relationship has been built up over 12 years and, obviously, I'm grateful for the relationship we have built up," said Manuell. "Orix finds it a good way to network with people in the industry and get exposure for their business.
"They are a fantastic company to deal with and the culture within their corporate environment is also fantastic."
The other good news is Manuell will have a new co-driver for the weekend's racing.
Bathurst 1000 winner Nick Percat will compete in the final two endurance rounds after signing to co-drive alongside Manuell. The 25-year-old Australian will replace John Penny for this weekend's round at Hampton Downs and the Pukekohe 500 in November.
Percat, who won the opening Carrera Cup race at Bathurst, will bring a wealth of experience to the Orix team. Manuell is confident the acquisition of the two-time Australian Formula Ford champion will lift him up the V8 SuperTourers standings.
Percat was Garth Tander's co-driver at last weekend's Bathurst 1000 where they finished fourth.
The first two endurance events consist of one sprint race and two races each 200km in length. The Pukekohe 500 features two 150km races followed by one of 200km. In each race teams have to make at least one stop and a driver change.
2013 V8 SUPERTOURER CHAMPIONSHIP
1. Murphy - 2722
2. Pedersen - 2648
3. Van Gisbergen - 2584
4. Gaunt - 2001
5. Moore - 1927
6. Heimgartner - 1868
7. McLaughlin - 1613
8. McIntyre - 1431