Last pit stop puts Winterbottom in front to claim first victory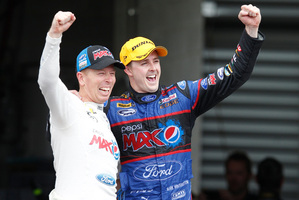 The three full-time New Zealand drivers in the V8 Supercars championship may not have had the result they were looking for at the Bathurst 1000, but at least they all made it home in one piece.
On a positive note though, a Kiwi driver did stand on the podium last Sunday. Steve Richards added another victory to the two he already has co-driving with Mark Winterbottom as the lead car for Ford Performance Racing in the Supercheap-sponsored event.
It was FPR's and Winterbottom's first win on the Mountain and probably the biggest victory for both of them.
The two were in the lead group all day and a magic final pit stop saw Winterbottom emerge just metres ahead of chief protagonist Jamie Whincup, where he stayed until the finish, fighting off the Red Bull Racing Australia driver the entire time.
"In terms of my three wins at Bathurst this is the best," said Richards who, with his father, Jim, now have 10 titles.
"I know the trials and tribulations this team has had so this is the best and a real reward for everyone," he said. "It was incredibly hard to watch Mark drive those final 40 laps and I was definitely more nervous than he was driving the car. We didn't have any issues all day and our pit-stops were perfect and in the end that made the difference."
Things were looking good for the Brad Jones Racing Lockwood pairing of Fabian Coulthard and co-driver Luke Youlden halfway through the race. Youlden pitted, handing the car over to Coulthard in a strong fifth position but the car's pace dipped substantially, leaving the Kiwi puzzled about what was happening.
After several unsuccessful stops to try to sort the problem, Coulthard battled home to finish 16th and the team is now investigating what damage could have caused the sudden downturn.
"We lost a lot of time in that middle part of the race. We struggled for lap time," said a frustrated Coulthard. "My engineer came on to the radio and said I needed to pick up the pace but I was doing all I could. Luke jumped back in and had a similar drama. I don't like saying it, but maybe there's something wrong with the car.
"On the positive side, we finished 1000km. It would have been nice to get a better result for them."
Scott McLaughlin was well in the hunt from the off and embroiled in a few hefty battles but, unfortunately, came off worse in some of them, including being forced wide as Winterbottom muscled his way past.
The young Kiwi was the best of the full-time New Zealand drivers and finished eighth. He now has two top-10 finishes from two starts. Last year, he finished second.
"It was kind of frustrating because we didn't have enough speed to do anything really. I was just sort of sitting there in my position," said McLaughlin.
"We lost a bit of time just before the last stop and that killed our race really - we lost a few positions there. It's pretty cool to be eighth in Bathurst because it's no mean feat, but it a bit disappointing because we were running so high at the start of the race."
Greg Murphy, the four-time Bathurst winner, probably had the biggest shunt of his Mount Panorama career when he smashed into the wall at Reid Park. Murphy was sharing driver duties with James Courtney and they were handily placed before the crash.
"It didn't feel like anything was wrong in the car but we'll have to check the data," said Murphy.
"I either turned in a fraction too late or got in a little bit too aggressively. It was weird as I hadn't had a moment there. It completely caught me by surprise. I just lost the rear and, as soon as it got on the marbles, it was gone."
Shane van Gisbergen had a solid, if uninspiring race, with Jeroen Bleekemolen to come home j in 11th place.
Kiwi drivers finishing positions
1. Steve Richards (Mark Winterbottom)
8. Scott McLaughlin (Jack Perkins)
11. Shane van Gisbergen (Jeroen Bleekemolen)
13. John McIntyre (Alex Davison)
14. Craig Baird (Lee Holdsworth)
16. Fabian Coulthard (Luke Youlden)
22. Chris Pither (David Wall)
24. Jonny Reid (Tony D'Alberto)
25. Daniel Gaunt (Michael Caruso)
DNF Matt Halliday (Dean Fiore)
DNF Greg Murphy (James Courtney)
V8 Supercars Championship
1. Jamie Whincup - 2423
2. Craig Lowndes - 2309
4. Mark Winterbottom - 2281
3. Will Davison - 2242
6. Fabian Coulthard - 2115
6. Jason Bright - 1937
7. Garth Tander - 1920
8. Shane Van Gisbergen - 1914