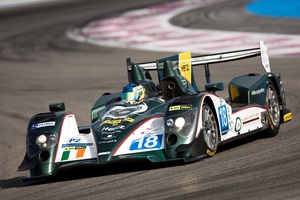 New Zealand racecar driver Brendon Hartley's burgeoning sports car career is on the cusp of taking a big leap forward now he's been invited to test for the factory Porsche team.
Hartley has been offered the chance to buckle up in a full-blown Porsche LMP1 factory car and impress that he's got the goods to be considered for one of the two remaining spots in the German manufacturer's 2014 roster.
Long time GT runner Marc Lieb is also in the mix for one of remaining seats to join Timo Bernhard, Romain Dumas, Neel Jani and Mark Webber, who have so far been signed for Porsche's assault on next year's World Endurance Championship.
While Lieb has a great pedigree in GT cars, unlike Hartley he has very little experience in open wheelers, or cars that operate under heavy downforce.
Another factor in the Kiwi's favour is he's young, notched up wins in a Daytona Prototype in America, and more recently won in the Murphy Prototypes' LMP2 car at the recent round of the European Le Mans Series.
"I can now confirm that Porsche are going to give me a test in the LMP1 car," said a suitably excited Hartley.
"It's an absolute dream come true for me. I've worked really hard over the past few years to put myself right back in the frame for a top drive. And to have a chance with one of the most famous marques of all in endurance racing is something quite special.
"I feel massively privileged to have been offered the chance and I'm really excited to do the test.
"The final date of the test hasn't been confirmed yet, but I can't wait to grab the opportunity and make the most of it."
It really is a dream come true for the New Zealander to be offered a factory Porsche test and Hartley has every intention of making the most of his chance to prove his worth to the team. Getting the offer to test for a factory team so early in his sports car career is extremely unusual, and is indicative of the high regard Hartley is thought of in certain circle in Europe.
"Porsche has a massive programme and to be part of it would be very special. Obviously I have to prove myself at the test and just being offered the chance is important to me.
"It is though, nice to know that someone like Porsche has been watching my progress in LMP2 and has decided to give me a chance - I'm quite proud of that. I'm really looking forward to the opportunity and doing a good job. I'm very confident in my driving at the moment and I'm sure I'll be able to make a good go of it," he said.
After being released a few years ago by the Red Bull Junior Development Formula One squad, Hartley knuckled down and used his considerable racing talents to forge a career in sports car racing.
In a very short period of time in the category, Hartley has proved he can mix it with the world's best in endurance racing including setting the fastest race lap times in class at some of the biggest events in the world including the Le Mans 24 Hour.
For Porsche LMP1 development videos head to the links below.
https://www.youtube.com/watch?v=EbeqO8E72g0
https://www.youtube.com/watch?v=yyybKmNu7jI