Ex-banker finds his 1956 Chev just right now he's turned to landscaping, writes Jacqui Madelin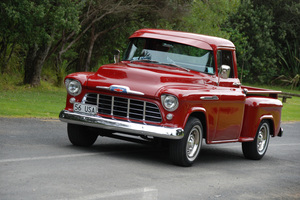 John Daley rather blows the traditional banker image out the window. He's wearing a plaid shirt, western boots - and has a muscular 1956 Chev pickup truck in the garage. He uses it for work now he's swapped 39 years at a bank for landscape gardening.
"When I organised this job I'd lost the company car and thought a ute would be a good idea," he says.
He considered a new Ford Ranger.
"It's the sensible thing to do but I thought 'blow it', and I bought this. It's not sensible, but it is a lot of fun, it's really cool, it looks like an old Tonka toy I had as a kid."
His 1956 1300 Chev pickup is right-hand drive, "Which is reasonably unusual, most you see are recently imported from the US but this was imported new to New Zealand in 1957."
A lot of people ask how he converted it.
"They don't believe I didn't, but it was built by GM in Canada."
It's not just a show pony either, despite that shine.
"I use it pretty much on a daily basis. My wife tells me - she tells anyone - that I only go to work to pay for the petrol for it. She may be right."
The Chev uses a three-speed auto to access power from this 327ci [5.4-litre] V8 and drinks an eye-watering 23.5 litres of petrol for every 100km travelled.
"Twelve miles per gallon," says John, "and the speedo is in mph."
The drivetrain - engine, gearbox and diff - are all replacements, that's a Ford nine-inch diff in the back. It had a six-cylinder and three-speed manual transmission until about 11 years ago and then it was owner upgraded. It's now also got power-assisted disc brakes from a Holden Statesman and it's been painted.
The body is in stock condition, and the interior's standard, as is the suspension, so you bounce around a fair bit.
"It's 57-year-old tech, leaf springs front and rear, and no power steering - it's good for muscle development!"
John says he's not about to change it.
"It's not a racing vehicle, it's got scratches and dents and a bit of rust, what do you expect? I've got bumps and dents too and I'm the same age, it's called life. Modern cars feel nice and smooth after it though, a classic makes you appreciate what you take for granted today."
Under the bonnet there is the odd chip in the paint.
"It gets wet and it hasn't melted. It'll rust one day but it's survived 57 years pretty well."
John chuckles, "My daughter thought she'd found a wagon to go skiing in until she drove it, and discovered it had no power steering. It's part of the character of old vehicles.
"Most people wouldn't have a bar of them. They like it but when you take them for a ride all they tell you is what's wrong with it, it doesn't ride like their Beemer. Well of course it doesn't, it's an old car!"
Top speed? "No idea. It'll go faster than the chassis is capable of. It'll cruise at 100, but it's a vehicle that you need to drive to the limit round corners - if it says 80k, you do 80k."
John starts it up and blips the throttle in the garage; it certainly sounds good, and at 50km/h we're talking fine though it'd get noisy at 100, not least due to wind over that front sun visor and the lack of sound insulation.
"My son says it's like driving a brick," says John.
The steering wheel is almost laughably huge but it's the only way to manage without the power assistance.
It's a bit vague too, though precise enough when doing fine manoeuvres, and John's right, it does feel like driving a big red Tonka toy, in a good way.
The auto makes it easier, though threading through narrow gaps with the owner in the passenger seat is a bit hair-raising.
The speedo seems very precise as it's an electronic one from a United States company that makes repro ones with electronic gauges.
But blipping the throttle to feel and you hear that engine surging at the leash.
Talk about character; between his truck and his new open-air job, John won't miss his desk at the bank.